Seven charged by US with conspiring to aid Taliban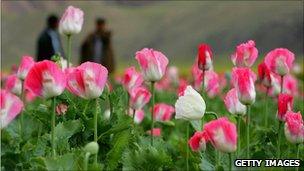 Seven people, including two Americans, have been charged with conspiring to aid the Afghan Taliban by selling the militant group weapons and moving drugs through West Africa, US officials say.
The two US citizens were charged with conspiring to sell missiles to protect Taliban-run heroin laboratories against US attacks in Afghanistan.
They were arrested in Romania and are being held for extradition to the US.
Other defendants allegedly plotted to sell heroin to the US for the Taliban.
The two Americans, identified as Alwar Pouryan and Oded Orbach, were indicted in connection to a scheme to sell surface-to-air missiles, automatic rifles and other weapons to the Taliban to help the rebel group protect their narcotics operations, the US justice department said in a statement.
Five other defendants, who allegedly operated drug trafficking rings in Africa, were charged in a plot "to receive, store, and move ton-quantities of Taliban-owned heroin through West Africa, portions of which they understood would then be sent to the United States", the statement said.
The five, named as Maroun Saade, Walid Nasr, Francis Sourou Ahissou, Corneille Dato and Martin Raouf Bouraima, were taken into custody in Liberia earlier this month by Liberian authorities and transferred to US custody, officials said.
Once extradited, all seven are expected to be tried in New York.
The defendants had communicated with confidential sources working with the US Drug Enforcement Administration, the justice department statement said.
"As alleged, the defendants charged today, including two US citizens, were prepared to provide millions of dollars in dangerous narcotics and lethal weapons to men they believed represented the Taliban," US Attorney Preet Bharara said.
He added: "This alleged effort to arm and enrich the Taliban is the latest example of the dangers of an interconnected world in which terrorists and drug runners can link up across continents to harm Americans."
Related Internet Links
The BBC is not responsible for the content of external sites.