US veterans say military fails in rape claim inquiries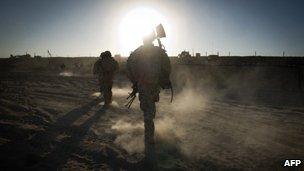 A group of US military veterans who say they were sexually assaulted by fellow servicemen and then neglected by the military have sued to force reform.
The plaintiffs say the military is too lax in investigating and prosecuting sex crimes and fosters a culture where victims are afraid to report crimes.
The veterans argue too few offences lead to court martial, and hope their case will draw attention to the issue.
A Pentagon spokesman said the military had "work to do" to keep members safe.
In a statement, Geoff Morrell said sexual assault was a wider problem in American society and that US defence secretary Robert Gates had been working on the issue.
"That means providing more money, personnel, training and expertise, including reaching out to other large institutions such as universities to learn best practices," he said.
"This is now a command priority, but we clearly still have more work to do in order to ensure all of our service members are safe from abuse."
At a news conference in Washington, attorneys, activists and military veterans who say they have been sexually assaulted by comrades said individual unit commanders had too much discretion about the investigation of specific accusations.
The lawsuit filed on Tuesday by the group, which includes both sexes, names Mr Gates and his predecessor, Donald Rumsfeld. It calls for an objective third party to handle sexual assault complaints.
Anuradha Bhagwati, executive director of the Service Women's Action Network, said that official figures showed fewer than one in five service members accused of sexual assault "sees the inside of a courtroom".
"Unlike in the civilian world, a military rape survivor cannot quit his or her job," she told reporters on Tuesday.
Too often, she said, victims were forced to live and work alongside the perpetrator, because they were not free to move.
And people who are raped while serving the US military have no right to sue their attacker, nor to sue the military, Ms Bhagwati said.
"The military is broken when it comes to these cases," said Ms Bhagwati, a former captain in the US Marine Corps.
"American youth should not sacrifice their bodily integrity when they volunteer to serve our country."
One woman, who was herself a former criminal investigator for the US Army, said she had been raped by a colleague.
In another incident, a plaintiff said male comrades had raped her in Iraq, videotaped the attack and circulated the footage. She said her commander had declined to file charges because she "did not act like a rape victim" and "did not struggle enough".
Another woman said she was warned that she would herself be prosecuted for lying if she pressed a rape charge against a man who attacked her.
Keith Rohman, a lawyer who is working on the case, said the lawsuit was not intended to press for specific reforms, but to draw attention to the issue through the courts.
Pentagon spokeswoman Cynthia Smith told the Associated Press news agency she had not seen the lawsuit and could not comment on the allegations.
But she said the military planned to open a sexual assault hotline in April and had created a sexual assault prevention office in 2005.
Related Internet Links
The BBC is not responsible for the content of external sites.