Toronto police 'seize $1m of marijuana' from pizzeria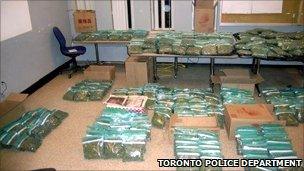 Toronto police say they have seized marijuana with a street value of 1m Canadian dollars ($1m; £618,811) from a takeaway pizza restaurant.
Pizza Gigi's owner, 57-year-old Salvatore Crimi, sold the drug from the restaurant, police alleged.
Investigators obtained a warrant for Monday's raid after watching customers enter and leave without any food.
Police said in a statement they had also seized cocaine, other drugs and 8,000 Canadian dollars in the search.
The restaurant, said to be popular with University of Toronto students, has been at its location for 30 years, according to the Toronto Star.
Toronto Pc Wendy Drummond told the BBC the restaurant was located in a residential area and that the investigation had been sparked by neighbours' complaints.
Mr Crimi appeared in court on Monday but it was not immediately clear how he pleaded.
In a past review, Toronto's Now magazine wrote: "This bare-bones takeout and delivery-only pizzeria couldn't get any more trad, Dad, if it tried, dishing up authentic old-school pizzas with not-too-thick crusts and first-rate sloppy toppings."