Somali pirate sentenced to 33 years in US prison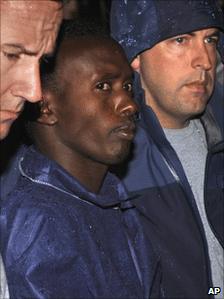 A Somali man who pleaded guilty to piracy has been sentenced in the US to more than 33 years in prison.
Abdiwali Abdiqadir Muse is the only survivor of the crew of pirates who attacked the Maersk Alabama merchant ship off Somalia's coast in April 2009.
He was captured by the US Navy, whose sharpshooters killed three other pirates trying to escape on a lifeboat with the Alabama's American captain.
Muse told the court he was "very sorry for what I did".
"I got my hands into something that was more powerful than me," Muse said through a translator.
Muse's lawyers had sought the 27-year minimum sentence.
In federal court in New York, prosecutors had portrayed Muse as a ringleader of the pirate gang who seized the Maersk Alabama some 450km (280 miles) off the coast of Somalia.
US District Judge Loretta Preska described the pirates as sadists, noting they had subjected Capt Richard Phillips to a mock execution.
"They appeared to relish even their most depraved acts of physical and psychological violence," she said.
Before she announced the sentence, Maersk Alabama crew member Colin Wright told the court he was "not the same person I used to be and I never will be".
Prosecutors said Muse was the first to board the Maersk Alabama, firing his AK-47 assault rifle at Capt Phillips.
Muse pleaded guilty in May to what were said to be the first piracy charges to have been brought in the US in more than a century.
The Maersk Alabama, which was carrying food aid, was seized by the four pirates in April 2009.
Capt Phillips then told his crew to lock themselves in a cabin and surrendered himself to draw the pirates away from his men.
He was taken from the ship in an enclosed lifeboat, with US warships and a helicopter in pursuit.
The stand-off only ended several days later when Navy sharpshooters killed three of the pirates and rescued the captain.
Donna Hopkins, co-ordinator for counter piracy and maritime security at the US state department, told the BBC the Somali piracy problem was escalating and would continue to do so for as long as the pirates were able to make large sums of money.
"There aren't enough ships on the planet to patrol the entire Indian Ocean," she said, adding that she thought it would be more difficult to eradicate Somali piracy than to bring peace to Afghanistan.
"Naval operations are necessary but they are not sufficient," she said.
"There needs to be a wide range of strategic options deployed including disrupting the financial flows that incentivise and reward piracy as a business. It is organised crime and we need to treat it like that."
She said the piracy was no longer an amateur operation but rather a "seriously networked international enterprise".
Of the roughly $60m (£37.4m) in ransoms the pirates took in the past year, only 15% went to the pirates themselves, with the rest going to a transnational criminal network, not all of whom were Somalis, she said.
Ms Hopkins said it was also possible that pirates were receiving intelligence on the most lucrative targets from individuals working for international maritime organisations.