Jay Carney: The new face of the White House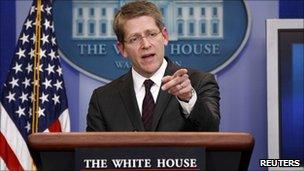 When new White House press secretary Jay Carney stepped up to the podium for his inaugural briefing on Wednesday, the first thing he did was take a long, deep breath.
If Mr Carney didn't fully appreciate the phrase "into the lion's den" before today, he certainly does now.
The White House press secretary is one of the most visible figures in American politics.
The position's power has only magnified as the news cycle becomes shorter and more frenetic - and as so the press corps' demands for information have grown.
The softly-spoken Mr Carney is no stranger the briefing room. He spent 20 years as a Time magazine scribe - covering the White House among other things - before making the leap to the other side of the microphone.
He comes to the role as President Obama's chief spokesman after spending more than two years working as Vice-President Biden's press secretary.
With that background, he's no doubt clear-eyed about the odd amalgam that is the White House briefing room: part theatre, part game and partly ground zero for the prickly co-dependent relationship between the press corps and the administration.
"I think it's been said before that the office that the press secretary has is somewhat symbolically located about halfway between the briefing room and the Oval Office," Mr Carney told reporters today. "I think that says something about what the nature of the job is."
Mr Carney is the president's mouthpiece, but the real key to doing his job effectively is to use a lot of words to say almost nothing. His is the art of deflection.
"How's everybody doing today?" were Mr Carney's first words to the unusually large throng of reporters who had turned out to see their newest White House frenemy in action.
Some of them shouted "Welcome!" as he entered.
"I'm glad to be here. I really appreciate the turnout. I've never seen the room this crowded."
With both the television lights and the packed-in bodies, the heat in the briefing room soared. But Mr Carney kept his understated cool.
He seemed well prepared for a press corps who treated him respectfully, yet refused to let him off easy on his first time out.
But his style was somewhat of a departure from his predecessor Robert Gibbs, who stepped down to become a private political consultant.
With his southern drawl and disobedient ginger hair, Mr Gibbs could be both combative and jocular at the podium.
He often seemed exasperated by the media's fixation with day-to-day who's winning, who's losing narratives.
He could be slippery and antagonistic, with many reporters complaining that he did a poor job of returning their calls and emails.
But he could also be entertaining, colourful and quick-witted.
Moreover, he was also a defender of the media's access, famously getting into a shouting match with an Indian official over India's attempts to curb the number of US reporters covering a meeting between President Barack Obama and Prime Minister Manmohan Singh.
He literally shoved his foot into a closing door, daring the Indian officials to break it, and threatened to pull Mr Obama out of bilateral meetings if press access was limited.
In his first outing, Mr Carney not only shunned his predecessors penchant for pastel coloured ties and sports banter, he showed little of Mr Gibbs' oft-seen derision.
He kept his answers short, working his way efficiently through reporters in the first three rows of the briefing room, but also taking questions from a couple of foreign journalists.
Veteran White House reporter Mark Knoller of CBS noted that Mr Carney seemed to loosen up after the first couple of questions.
But the key to Mr Carney's success will be something Mr Gibbs' had in spades: credibility in channelling Mr Obama's thoughts.
Mr Gibbs was one of Mr Obama's longest-serving advisers, working for him since he started in the senate in 2004.
Mr Gibbs was in the room with the president at almost every critical juncture in his presidency. Every reporter in the press corps knew he was part of Mr Obama's small, tight-knit crew of trusted advisers.
When Mr Gibbs articulated on behalf of the president, reporters almost unquestioningly accepted that it was an accurate, incisive reflection of Mr Obama's thinking.
Mr Obama even made a rare, surprise appearance in the briefing room on Mr Gibbs' last day.
Mr Obama told the story of how Mr Gibbs lent him a tie to wearing during the speech at the 2004 Democratic National Convention which launched him onto the national political scene.
On Friday, Mr Obama finally returned the tie, framed and with a hand written thank you note.
"Robert has not only been an extraordinary press secretary, but he has been a great friend," Mr Obama said.
By comparison, Mr Carney is still somewhat of an outsider, and it may take time for reporters to trust that when he speaks, he is truly echoing the president.
Mr Carney is reported to have impressed Mr Obama during the selection process. He told reporters that he had spoken to the president several times on the day of his first briefing, and Mr Obama had wished him good luck.
After taking questions for over an hour, Mr Carney wrapped up the brief, but not before one reporter shouted the all important question: which side of the podium did he prefer to be on?
With a lopsided smile, Mr Carney replied: "I like it up here."