Life sentence for Russell Defreitas in JFK bomb plot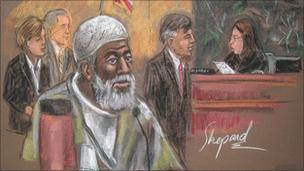 A man convicted of plotting to blow up fuel tanks at New York's JFK Airport has been sentenced to life in prison.
Former cargo handler Russell Defreitas, 67, had hoped the act would rival the 9/11 terror attacks, prosecutors said.
His co-defendant, Abdul Kadir, a former member of Guyana's parliament, was given the same sentence in December.
The pair were convicted in August. Defreitas's defence attorneys hoped for a lesser sentence, arguing he had been "egged on" by a government informant.
His "stories about how they would accomplish the plot became more and more ridiculous until they finally rose to the level of the absurd, with Mr Defreitas' scheme to send 'ninjas' in to attack the airport", the defence team said.
But prosecutors said Defreitas and Kadir, both originally from Guyana, had planned to use explosives to blow up fuel tanks and underground pipes - a murderous act they thought would shake the US economy.
Prosecutors also said Kadir and Defreitas had shot video and photos of the airport, studied airport security and planned escape routes.
The pair were also accused of seeking the help of militant Muslims and at least one al-Qaeda operative in the Caribbean.
The case was based in large part on conversations recorded by a convicted drug trafficker who had agreed to act as an informant for the government in exchange for leniency in his own sentence and a stipend, according to the US justice department.
The informant and the alleged co-conspirators discussed the plot in the US and during visits to Guyana from late summer 2006 to mid-2007, with the informant recording many of the talks, according to court documents.
Defreitas also took the informant along on surveillance visits to the airport.
"The whole of Kennedy will go up in smoke," Defreitas was heard saying.
Two others were charged in the plot. Abdel Nur was sentenced to 15 years in prison in January, and Kareem Ibrahim is awaiting trial.