Wisconsin protests: Governor not backing down over bill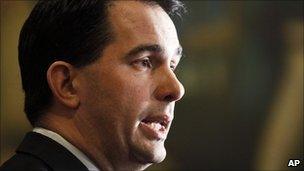 Wisconsin Governor Scott Walker says he is not backing down over a controversial anti-union bill which has seen thousands of people protesting over the last week.
"We're willing to take this as long as it takes," Gov Walker told US media.
Democratic senators have fled the state in a bid to delay a vote on the bill, denying the senate a quorum.
Other states are watching closely as Republicans across the country seek to tighten public spending.
The governor's comments came a day after the US House of Representatives passed a measure that would cut $61bn from federal spending.
The budget is expected to be rejected by the US Senate, and the move sets the stage for further conflict between Democrats and Republicans.
Leading Democrats attacked opponents on Sunday for a "reckless" threat to shut down the government amid deepening political posturing on both sides.
Speaking to Fox News on Sunday, Gov Walker rejected the possibility of compromise in Wisconsin.
"We're willing to take this as long as it takes because in the end we're doing the right thing', he said.
He went on to say that cities, school districts and counties would need to weaken unions to be able to cut spending for years to come.
Opponents describe the bill, which would also dramatically increase the amount public workers must contribute to their pensions and health insurance coverage, as an attack on livelihoods and on the unions.
It would still allow public workers to organise into unions, but they could not require workers to pay dues and would have to hold a vote annually to remain organised.
Also, the workers would be forbidden to bargain collectively on any matter except pay increases that are no higher than inflation.
Wisconsin Republicans' effort to trim public employee compensation is part of a nation-wide movement for the party, which made sweeping gains in the November election in part amid pledges to cut government spending, analysts say.
The state faces a $3.6bn (£2.23bn) budget deficit in the coming two-year period. The public employee bill is expected to save $300m in that period, and Governor Scott Walker says that despite the protests, he has the backing of the state's voters.
Related Internet Links
The BBC is not responsible for the content of external sites.