US couple on yacht hijacked off Somalia 'knew of risks'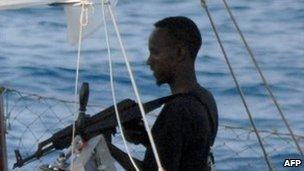 Friends of a US couple aboard a yacht hijacked off Somalia on Friday say the pair knew their journey was risky, but were determined to press on with their Christian mission.
In an email sent days before they went missing, Scott and Jean Adam described plans to stay out of touch to hide their location from pirates.
Also on the S/V Quest were Americans Phyllis MacKay and Bob Riggle.
The US Navy is tracking the route of the yacht, an official told the BBC.
The Adams have been sailing the yacht around the world since 2002, often distributing bibles, according to their website.
'Tried to take precautions'
Robert Johnston taught Scott Adam at Fuller Seminary in California, and described the Adams as accomplished sailors.
"They were responsible planners, they knew there was the potential for problems and they tried to take precautions, but obviously something happened," he said.
"The last email we had gotten on the 12th of February said they were happy, upbeat, excited - everything was going fine.
"They basically had said we're not going to be in communication for 10 or 12 days because we know this is territory where there could be problems and we don't want pirates or other people to know our location."
The S/V Quest was hijacked 240 nautical miles (275 miles) off Oman on Friday afternoon, according to Ecoterra, an international maritime watchdog.
It is believed the yacht was en route from India to Oman.
While pirates usually attack cargo ships, they have hijacked a number of yachts in recent years.
Ecoterra said the capture of the S/V Quest had been reported by both its sources and by Nato's anti-piracy operation, Ocean Shield.
Mapping out their sailing plans for this year, Jean and Scott Adam said they planned to sail from Sri Lanka to Crete in the Mediterranean, via the Suez Canal, making stops in India, Oman and Djibouti.
There are currently around 30 boats captured by pirates off the coast of Somalia, a total of more than 600 people being held hostage, according to a US Navy spokesman.
Somalia has had no functioning central government since 1991, allowing piracy to flourish off its coast.
Somali pirates have made millions of dollars in recent years by capturing cargo vessels in the shipping lanes around the Horn of Africa and holding the ships and crew for ransom.
A recent US study found that maritime piracy costs the global economy between $7bn (£4.4bn) and $12bn (£7.6bn) a year.
Related Internet Links
The BBC is not responsible for the content of external sites.