US union protests: Demonstrations move beyond Wisconsin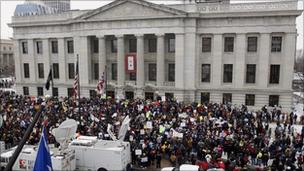 Union unrest is spreading through the mid-western US, as labour activists in at least three states protest against pending anti-union legislation.
Thousands of protesters gathered in Ohio and Indiana and, for the second week in a row, Wisconsin.
Republican-led governments there have argued the moves are needed to balance state budgets wracked by deficits.
But Democratic-leaning unions say fiscal woes are being used as an excuse to erode collective bargaining rights.
In Indiana, House Democrats left the state in order to block votes on labour bills.
The Indiana House came into session on Tuesday morning with only three of the 40 Democrats present, depriving the chamber of a quorum to do business.
The Republican-led Indiana state government has vowed to push a bill that would curtail private-sector unions by forbidding employers from requiring workers to pay union dues, a standard provision of union labour contracts.
An estimated 4,000 union protesters filled the statehouse, and later Indiana Governor Mitch Daniels, a Republican said to be considering a run for the White House in 2012, appeared to signal to lawmakers to drop the bill, the Indianapolis Star reported.
In Ohio, thousands of labour union activists and supporters packed onto the grounds of the state capitol building. So many sought to gain entrance to the building to register their opposition to the bill that state troopers locked its front doors.
They were protesting against legislation backed by Republican Governor John Kasich that would restrict public employees' collective bargaining rights.
"Governor Kasich decided he wants to squash unions and found a creative way to do it, but he has to realise that we've fought this battle before and he will not stop us because we will fight to the very end," JoAnn Johntony, president of the Ohio Association of Public School Employees, told the Columbus Dispatch.
In Wisconsin, Republican Governor Scott Walker on Tuesday threatened to begin involuntary redundancies of state workers as early as next week if the legislature did not soon approve a bill stripping them of most collective bargaining rights.
He has said he will not back down in the face of tens of thousands of union workers and their supporters who have massed in the capital since last week.
The bill Governor Walker and the Republican legislative majority back would also require state workers to contribute more to pension and healthcare coverage.
It had been expected to pass the legislature last week, but in a move intended to stall the bill's passage and force its backers to negotiate, Senate opposition Democrats left the capitol, denying the Senate a quorum needed for a vote.
They have fled to neighbouring Illinois and have said they will not return until Mr Walker agrees to talks.
Wisconsin faces a $3.6bn (£2.23bn) budget deficit in the coming two-year period. The public employee bill is expected to save $300m in that period.