Saudi held on Texas terror charge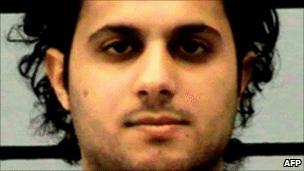 US authorities in Texas say a Saudi student sought to make a bomb and drew up a list of targets including former President George W Bush's house.
Khalid Ali-M Aldawsari was arrested on Wednesday and charged with attempted use of a weapon of mass destruction.
The US said he had sought to purchase chemicals and other kit needed to construct a bomb to wage "Jihad".
Mr Aldawsari, 20, is due to appear in federal court on Friday. If convicted, he faces life in prison.
In a court filing, the US justice department said investigators were alerted to Mr Aldawsari on 1 February when a chemical supplier became suspicious of an order he made of toxic chemicals that can be used to make explosives.
Investigators said Mr Aldawsari appeared to have researched ways to conceal bombs in children's dolls and in backpacks.
"Yesterday's arrest demonstrates the need for and the importance of vigilance and the willingness of private individuals and companies to ask questions and contact the authorities when confronted with suspicious activities," Assistant Attorney General David Kris said in a statement.
Mr Aldawsari is accused of attempted use of a weapon of mass destruction, based on the alleged purchase of chemicals and explosive-making equipment and his research of potential US targets.
Mr Aldawsari came to the US on a student visa in 2008, and enrolled at South Plains College near Lubbock in Texas, the justice department said.
Investigators said he ordered the toxic chemical phenol, which can be used to make explosives, telling the supplier he wanted it for "off-campus, personal research".
The supplier became suspicious and reported the contact to the FBI; Mr Aldawsari later cancelled the order, the justice department said.
He later sent an e-mail to himself on 11 February, with a recipe for picric acid, which he describes as a "military explosive".
Mr Aldawsari planned to use a mobile telephone as a remote detonator and purchased other items to assist with bomb-making - a gas mask, hazardous materials suit, soldering iron, glass beakers and a stun gun, the justice department said.
In what investigators described as his diary, Mr Aldawsari's diary wrote: "And now, after mastering the English language, learning how to build explosives and continuous planning to target the infidel Americans, it is time for Jihad."
Mr Aldawsari drew up a list of US targets to attack, including Mr Bush's Dallas residence and 12 reservoir dams in Colorado and California, investigators said.