US Army 'used psychological operations on US politicians'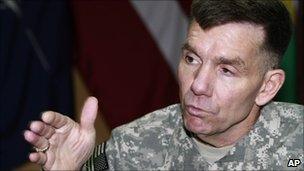 A US Army general in Afghanistan has been accused of using "psychological operations" to influence US lawmakers.
Lt Gen William Caldwell allegedly tasked "psy-ops" personnel to help him persuade legislators to support budget increases, Rolling Stone magazine said.
The army strictly prohibits the use of psy-ops on US citizens.
Gen Caldwell's office denies the story. But Gen David Petraeus, head of Nato forces in Afghanistan, would order an inquiry, the Associated Press reported.
Gen Caldwell, who heads the US effort to train Afghan troops, has not commented on the story directly.
But his office "categorically" denied the allegation that "the command used an Information Operations Cell to influence distinguished visitors".
One of the senators who was reportedly targeted, Jack Reed, has called for a full investigation into the accusations.
Psy-ops, or "information operations", are specifically used to target and influence enemy behaviours. The army deliberately separates that from public affairs, which is the mechanism for promoting the Army's agenda to Americans.
Lt Col Michael Holmes, who led a psy-ops team in Afghanistan, was quoted by Rolling Stone as saying that his unit was ordered to prepare Gen Caldwell for meetings with visiting US officials by providing detailed background briefs.
Gen Caldwell demanded "deeper analysis of pressure points" that would help him persuade politicians to support additional funding for the training for training Afghan troops, Lt Col Holmes says.
Lt Col Holmes recounted one alleged exchange with Gen Caldwell's chief of staff.
"How do we get these guys to give us more people?" the magazine reported that the chief of staff said. "What do I have to plant inside their heads?"
Among the lawmakers targeted were senators John McCain, Joe Lieberman, Jack Reed, Al Franken and Carl Levin.
Congressman Steve Israel on the House Appropriations Committee and Admiral Mike Mullen of the Joint Chiefs of Staff were also listed.
Mr Levin has responded to the story, denying that he was unduly influenced by the army.
"For years, I have strongly and repeatedly advocated for building up Afghan military capability because I believe only the Afghans can truly secure their nation's future," Mr Levin said in a statement.
"I have never needed any convincing on this point. Quite the opposite."
Mr Levin has supported a $2bn (£1.2 bn) increase in funding for training of Afghan troops.
Lt Col Holmes also alleges that Gen Caldwell considered expanding the programme to include NATO officials.