Carlina White US baby kidnap: Pettway pleads not guilty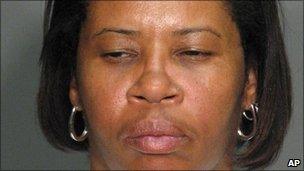 A US woman who raised child-kidnap victim Carlina White, who went on to solve her own abduction, has pleaded not guilty to taking Ms White when she was an infant.
Ann Pettway was indicted on a charge of kidnapping Ms White, now 23, from hospital in New York City in 1987.
The 44-year-old surrendered to officials last month in Connecticut.
Ms Pettway's lawyers said they were searching for evidence that another person took the infant.
The Federal Bureau of Investigation (FBI) has said in court papers that Ms Pettway kidnapped the baby after her efforts at childbearing failed.
DNA tests last month confirmed Carlina as the daughter of Joy White and Carl Tyson in a case that has made headline news in the US and internationally.
Ms White, taken at just 19 days old, has since been reunited with her true mother.
An arrest warrant had been issued in North Carolina in January for Ms Pettway, as officials believed she had violated a probation requirement.
FBI agent William Reiner said last month that Ms Pettway was required not to leave North Carolina as part of her probation following a conviction for attempted embezzlement. She is on parole until 2012.
Ms Pettway has been held without bail since she was arrested last month.
Related Internet Links
The BBC is not responsible for the content of external sites.