Voodoo ritual sparks fatal New York apartment fire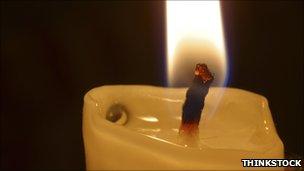 An apartment fire in New York City that killed a retired school teacher last weekend was sparked by candles lit for a voodoo ritual to bring good luck, city officials have said.
The blaze began after a woman visited the apartment of a man in Brooklyn and paid him to perform the ritual.
Candles on the floor then ignited bed linen either while the couple were having sex or briefly afterwards.
It is not known if intercourse was part of the ceremony, city officials said.
The woman reportedly paid the man, who is known as a priest in the neighbourhood of Flatbush, $300 (£185) to carry out the service.
The man first tried to put the fire out using water from a bathroom sink, but the blaze quickly spread after a window was opened, allowing wind to fan the flames, a fire department official said.
Mary Feagin, a 64-year-old resident of the building, was trapped by the blaze and was later found dead in the building.
Eleven residents and 20 firefighters were injured in the fire, while 50 families were left without a home.
It took nearly seven hours and close to 200 firefighters to bring the blaze under control.
It is not believed the ceremony that caused the fire was an official voodoo ritual, but rather a home-grown practice.