Toronto G20 unrest: Civil rights groups seek inquiry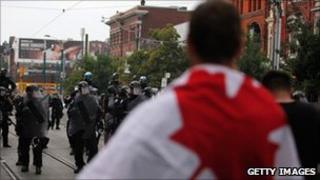 Canadian civil rights groups have called for a public inquiry into allegations of abuses by police during the G20 summit in Toronto last summer.
As Canada played host to leaders from around the world, protesters and police clashed on the streets of the city.
More than 1,100 people were arrested, and property and vehicles were damaged.
In their report, the rights groups said a full investigation was needed into claims of "serious violations of fundamental rights and freedoms".
The Canadian government had anticipated trouble around the summit and had made preparations in case of unrest.
However, the scale of the police response drew negative comment.
Toronto police told the Canadian Broadcasting Corporation they were co-operating with a number of inquiries into police conduct.
Based on three days of public hearings in November, the report by the Canadian Civil Liberties Association (CCLA) and the National Union of Public and General Employees alleges that police were responsible for violence, threats and illegal detainment of protesters.
"While the widespread property damage that occurred during the summit was deplorable, it neither justified nor warranted the extent of the police response that occurred," a joint press statement by the two organisations said.
"Canadians are entitled to policing that does not undermine constitutional values.
"Unfortunately, the security operations and police conduct chronicled in this report fell well short of this standard, resulting in a significant diminution of public faith in policing."
A number of official reviews into the events of the G20 weekend have already been ordered.
But Nathalie Des Rosiers, general counsel for the CCLA, said none of those reviews had the scope to give the answers needed.
"It is imperative that there be a full public inquiry into what happened during the G20 to ensure that it does not happen again," she said.
In December, ombudsman Andre Marin described the events of the G20 weekend as "the most massive compromise of civil liberties in Canadian history".
The provincial government in Ontario had passed a regulation in June giving security forces extra powers of search and arrest until after the summit ended.