Garridos 'confess' to Jaycee Dugard kidnapping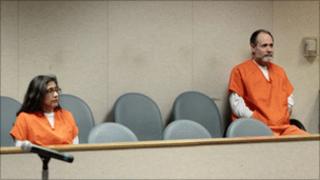 The California couple accused of kidnapping a California girl and holding her prisoner for 18 years have confessed to detectives, a lawyer says.
Stephen Tapson, who represents Nancy Garrido, said she and Phillip Garrido had admitted snatching 11-year-old Jaycee Dugard in 1991.
He said a plea deal was not yet agreed but prosecutors had proposed a 440-year sentence for him and 241 years for her.
Mr Garrido allegedly fathered Ms Dugard's two children.
Phillip Garrido's lawyer, Susan Gellman, did not confirm or deny Mr Tapson's account.
Speaking after a court hearing in Placerville, California, Mr Tapson told reporters that the Garridos had submitted to a lengthy interview with police detectives last month.
Ms Dugard was present during a session with Mrs Garrido, the first time the pair had met since the latter's August 2009 arrest, he said.
Plea negotiations
The 18 counts against the couple include kidnapping for sexual purposes, rape, lewd acts on a child, false imprisonment and production of child pornography with the victim, according to the indictment document.
Prosecutors and defence lawyers for the pair have reportedly begun negotiations towards a plea deal.
Mrs Garrido pleaded not guilty to the charges against her last year. Phillip Garrido had been due to enter a plea on Monday but his lawyer asked for the hearing to be postponed until 17 March.
Mr Tapson said the Garridos had spoken to detectives in the hopes of winning a deal that would allow Mrs Garrido one day to walk out of prison, the Sacramento Bee newspaper reported.
Prosecutors say that in June 1991, the Garridos snatched Ms Dugard from a street in El Dorado county, California.
They then held her - and later her two children - hostage in a squalid garden behind their house in Antioch, near San Francisco. Prosecutors allege Ms Dugard was repeatedly raped during her 18-year captivity.
In August 2009, a police officer at the University of California, in Berkeley, questioned Mr Garrido, then notified his parole officer after discovering he was on parole for sex offences.
The parole officer called him in for a meeting the next day, and Mr Garrido brought with him Nancy Garrido, Ms Dugard and the two children he is alleged to have fathered. Ms Dugard and the children were freed and the couple arrested.
Phillip Garrido had previously been convicted of rape and kidnapping in Nevada.