Jared Loughner charged with murder of Judge John Roll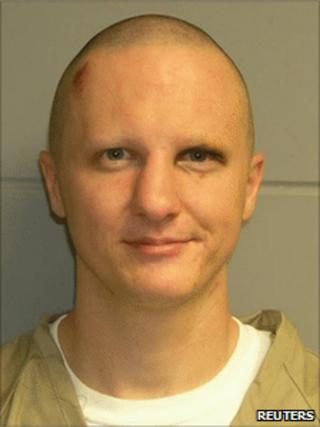 The man accused of shooting a US congresswoman has been charged over the killing of a federal judge who died in the attack in Arizona in January.
Jared Loughner, 22, was charged by a grand jury with 49 counts, including the murder of Federal Judge John Roll.
He was already charged in the attempted killing of Congresswoman Gabriel Giffords and the death of her aide.
Six people were killed in the attack on Ms Giffords as she held a constituency event in Tucson, Arizona, on 8 January.
In addition, more than a dozen were injured, including Ms Giffords.
Mr Loughner, who was rejected by the US military and had been suspended from college over concerns for his mental health, has been in jail since the attack.
On Thursday, a federal grand jury returned a new indictment, superseding the one returned in January.
Mr Loughner is due to appear in court next Wednesday in Tucson on those counts. He pleaded not guilty to the earlier federal charges.
If convicted, he could face the death penalty.
Among the new counts is a murder charge over the death of Judge Roll.
Investigators and prosecutors determined that Mr Roll was performing official duties when he was killed, making his killing a federal, rather than a state, crime.
'Citizens' precious rights'
Mr Roll had stopped by Ms Giffords's constituency event outside a store in Tucson that morning, and investigators say they believe he hoped to talk to her about overcrowding on the federal court docket.
The other counts relate to the killing of a federal employee; use of a firearm to commit a violent crime, cause injury or death; and injuring or causing death to participants at a federally protected activity.
"This was an attack on Congresswoman Giffords, her constituents, and her staff," US Attorney Dennis Burke said in a statement.
He said the four victims who were private citizens, including a nine-year-old girl, were killed "while exercising one of the most precious rights of American citizens, the right to meet freely and openly with their member of Congress".
Ms Giffords has made what doctors call remarkable progress, and is undergoing a course of intensive rehabilitation at Memorial Hermann Rehabilitation Hospital in Houston, the Texas city where her husband Mark Kelly works as a Nasa astronaut.