NPR chief Schiller resigns in wake of 'sting' video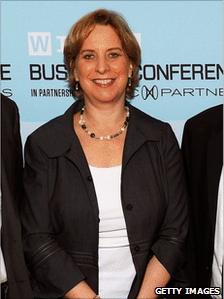 The head of US National Public Radio (NPR) has resigned amid a row over a "sting" video showing an NPR executive deriding conservative activists.
Vivian Schiller quit the NPR board on Wednesday. NPR's media reporter described her as being "ousted".
US conservatives have long claimed NPR bears a liberal bias, and Republicans have sought to cut the public element of its funding stream.
The service receives about 2% of its budget from the US government.
The BBC's Paul Adams, in Washington, says this has been a difficult year for NPR, which finds itself caught in the crossfire of a culture war between liberal and conservative America.
On Tuesday, conservative activist James O'Keefe - who had previously targeted community group Acorn and a Democratic US senator - released a secretly recorded video in which NPR fundraising executive Ron Schiller (no relation to Vivian Schiller) could be heard describing members of the Tea Party movement as racist and xenophobic.
Mr Schiller, who resigned on Tuesday, had been dining with men posing as members of a Muslim organisation that wanted to donated to NPR, but who were really two of Mr O'Keefe's operatives.
"The Tea Party is fanatically involved in people's personal lives and very fundamental Christian - I wouldn't even call it Christian. It's this weird evangelical kind of movement," he is heard saying.
He said adherents of the Tea Party are "seriously racist, racist people".
The populist conservative Tea Party movement rose in spring 2009 in protest against President Barack Obama's economic policies, in particular his effort to overhaul the US healthcare system.
In the 2010 mid-term elections, the group succeeded in getting dozens of virulently conservative Republicans elected to congressional and state office, and analysts say it will likely be a force in the 2012 presidential election.
NPR has long been under attack from conservatives. Ire against the organisation grew in October when the group fired news analyst Juan Williams who had remarked that he got "nervous" when seeing people wearing Muslim garb on aeroplanes.
Mr O'Keefe has drawn his own fire. Last year he admitted a misdemeanour charge of posing as a telephone repairman in order to enter and surreptitiously film the offices of Democratic Louisiana Senator Mary Landrieu.