Australian Prime Minister Julia Gillard's message to US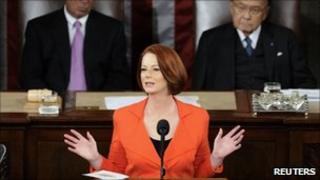 It wasn't Julia Gillard's blazing red hair, or even her accent that made her stand out in Washington this week. It was her message.
As Australia's first female prime minister arrived, Washington was slowly emerging, in fits and starts, from a bitterly cold winter.
Amid a sea of charcoal overcoats, she delivered an optimistic, hopeful message to a politically wearied town.
She put a positive spin on difficult policy demands to a city mired in seemingly intractable budgetary problems and reeling from two years of the most heavily partisan, divisive political antics the country has seen in some time.
Back in 2008, Ms Gillard's bright words might have seemed reflective of the country's mood.
Then, America seemed in the thrall of a charismatic young presidential candidate, whose campaign revolved around those same themes: hope, change, reform, a bright future.
But in the intervening years, the nation's mood, as reflected in Washington, has altered dramatically.
'Be bold'
While Australia was shielded from the worst of the recession, the American economy is still in the doldrums. Unemployment remains unacceptably high; confidence tentative, if not stalled.
Across the country, shop-fronts are shuttered and foreclosed, or repossessed, homes sit empty. Queues at food banks are depressingly healthy.
States are embroiled in fierce budget battles that either have or will result in lay-offs and cuts to public programmes. Inner-city public schools are achingly under-resourced.
Private companies are hoarding cash reserves, as yet unwilling to hire new workers, such is the nervous mood of the business community.
And in Washington, President Barack Obama's bold visions were rewarded with electoral defeat for the Democrats last November.
His recovery programme, auto bailout, financial reforms and, most importantly, his health care reform bill antagonized Republicans and made centrists in his own party skittish.
Hope and change have stopped being rallying cries for liberals. Now, they're slurs hurled by conservatives.
It was in this environment that Ms Gillard issued a challenge to Americans that seemed oddly out of step with the tone of moment: be bold. Be optimistic about the hard decisions ahead of you.
Tone deaf?
She delivered the same message in her speech to business leaders and to the US Congress: embrace the difficult financial and economic reforms that will make your nation more resilient.
At the US Chamber of Commerce, she lauded 25 years of "hard won" economic reforms that allowed Australia to remain robust in the face of global financial instability.
In several of her appearances, including alongside Mr Obama, she pressed the importance of trade and trade agreements at a time when Americans are wary of international competition.
She praised America's leadership in providing economic stimulus - the same policies that the Republican-controlled House of Representatives routinely bashes.
And she pledged that Australia would stay the course alongside America in the difficult Afghan war, even as that war grows increasingly unpopular in the US.
All of which begs the question: was Ms Gillard being tone deaf?
High-profile hospitality
Washington certainly rolled out the red carpet for Ms Gillard and the "first bloke", as her partner has been jokingly nicknamed in the Aussie press, during their first official visit to the US.
A meeting and photo opportunity at the White House with Mr Obama was followed by a trip to a history class at a local high school - giving her rare opportunity to spend informal time with the president.
Although, in contrast with Mr Obama's casual comfort before the cameras, she seemed somewhat stilted and ill at ease - perhaps afraid of messing up - photographs of the two leaders laughing are priceless political capital for the relatively new prime minister, especially as her approval ratings plummet at home.
She also participated in the Women of Courage award ceremony with Secretary of State Hillary Clinton and First Lady Michelle Obama and opened an exhibition commemorating the 60th anniversary of an Australia-US military treaty with Senator John McCain.
She announced an Australian contribution to a Vietnam veterans' education centre alongside Admiral Mike Mullen, chairman of the Joint Chiefs of Staff, in front of the Lincoln Memorial.
Adm Mullen praised her as a ground-breaker. Mr Obama said he was "immediately charmed" by her.
Ms Gillard and her entourage even got to stay at Blair House, the official guest residence of the president situated across the road from the White House. In Washington-speak, a Blair House invite is shorthand for "we like you".
But perhaps the high point of her visit was an invitation to be the first foreign dignitary to address a joint session of the current Congress - a rare honour that only two of her predecessors have enjoyed.
'Masters of recovery'
Despite the high-profile hospitality, the visit barely registered in the US press, although that is not unusual.
It probably didn't worry her advisers either - her words were not meant for average Americans. They were firmly directed at the country's leaders.
Over and over, she praised American optimism even in these bleak times. She said that ever since she was a little girl, she had always believed that Americans could do anything.
In her address to Congress - which was actually entitled "Be Bold" - Ms Gillard repeatedly emphasised the US-Australian alliance; the special relationship. She used the words friend and friendship 14 times.
"You have a true friend 'down under'," she declared, to rapturous applause.
To Australian ears, the flattery seemed heavy-handed. A bit desperate. Aussies might have called it crawling, or sucking up - not a desirable trait.
But to Americans, at this unpredictable moment in history, there are few things more welcome than an admiring ally. Or, as Ms Gillard termed it, a "great mate".
"Your brave and free people have made you the masters of recovery and reinvention," Ms Gillard said.
"As I stand in this cradle of democracy I see a nation that has changed the world and known remarkable days. I firmly believe you are the same people who amazed me when I was a small girl by landing on the moon."
The speech, filled with glowing references to American exceptionalism, was intended to leave a favourable impression - and it probably did. By the end, House Speaker John Boehner's eyes were filled with tears.
So perhaps Ms Gillard's positive message wasn't tone deaf. It served a purpose - one friend bucking another up, and promising loyalty, at a difficult time.
But this "crawling" had another effect. It helped lay the groundwork for Ms Gillard's potentially thorny demands - increased trade co-operation, limiting agricultural subsidies, stricter financial sector reform, and peaceful leadership in the face of rising China.
Because sometimes it also takes a friend to tell you things you don't want to hear.