Wire actress Felicia 'Snoop' Pearson held in drug raid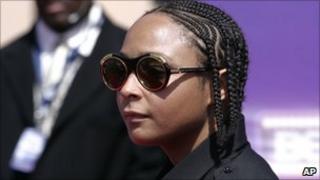 Actress Felicia "Snoop" Pearson, who played a killer in television series The Wire, has been arrested in a drug raid, police say.
She was among about 60 people arrested in an early morning sweep in Baltimore, Maryland, the same city where The Wire, a gritty drama about drug trafficking, was set.
Police declined to comment on the charges she could face.
Ms Pearson, 30, was convicted of second degree murder when she was a teenager.
She served time in prison after the murder, which she committed when she was 14.
Although she was sentenced to two eight year terms for killing another teenage girl, she was released after six-and-a-half years.
The Baltimore Sun reports that the drug raid was the result of a five-month investigation into a heroin and marijuana ring.
Difficult upbringing
Ms Pearson played a boyish hit-woman, also called Snoop, in the critically acclaimed HBO series The Wire.
She landed the role after actor Michael Williams, who played Omar, introduced her to the series' producers and writers after meeting her in a club.
The husky-voiced performer had no acting training before being cast.
Raised in a tough Baltimore neighbourhood, Ms Pearson's parents were both imprisoned drug addicts and she was brought up in a foster home.
In her memoir, Grace After Midnight, Ms Pearson admitted to also having sold drugs in her youth.
She earned a high school equivalency certificate while behind bars.
In recent years, Ms Pearson was involved in anti-violence and literacy campaigns aimed at urban and street youths, as well as volunteering at a prison and teaching performing arts to troubled and at-risk children.