Online poker: US states gamble on making it legal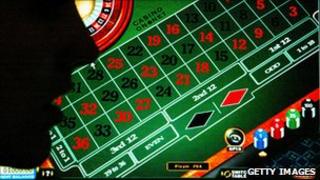 Each year, an estimated 10 million Americans participate in an activity that is ostensibly illegal: online poker.
In recent years, the US Congress has done its best to prohibit online poker.
While it has not made online poker an outright criminal activity, it has passed legislation setting up a strict system outlawing financial transactions related to the game.
That has led to a proliferation of offshore gaming sites reaping the benefits of a multi-million dollar industry.
But that might be about to change, if cash-strapped states have anything to say about it.
Moves are afoot in Iowa, Florida, California and Nevada to legalise online poker, in part to help close yawning budget gaps.
In regulating internet poker, state and federal authorities could potentially rake in $3bn (£1.9bn) a year. In Iowa alone, the tax revenue could be in the order of $35m (£22m) per year.
And, proponents argue, they could mandate consumer protections for players, who these days must deal with often shadowy foreign entities in order to play.
But opponents of legalisation are ready for a fight.
'Predatory industry'
Social conservatives generally worry about the effect of easily accessible gambling in the home, particularly its allure for problem gamblers.
They decry the degenerative effect they believe online gambling has on families, with parents spending more time gambling on the sofa than paying attention to their home life.
Les Bernal, executive director of the Stop Predatory Gambling group, sees an unholy alliance between government and the gaming industry.
"It's not like average citizens are calling up the government saying 'we want more places to lose money'," he told the BBC.
"Government, in partnership with the million dollar gambling business, is actively encouraging people to lose money."
He calls gambling "the most predatory industry in America", arguing that the business model depends on addicted or heavily indebted individuals losing large amounts.
"Instead of putting casinos on Main Street, you are essentially putting one into every home office and dorm room in America, 24 hours a day," he said.
But poker enthusiasts across the country tend to make a distinction between poker and other forms of gambling.
Poker is a game of skill and strategy, not a matter of chance like the humble slot machine, they argue.
Poker rewards those who dedicate time to learning the mathematical, social and strategic intricacies of the game, in a way that a roll of the dice does not.
John Pappas, executive director of the Poker Players Alliance (PPA), jokes that there is no such thing as the world's greatest lottery player.
He also notes that poker is the only peer-to-peer casino game. Players bet against each other, not the house.
For that reason, he says, the profitability of online poker is not reliant on people losing lots of money in the way that roulette is, for example.
Online sites tend to make their money by taking a small proportion of bets placed. If money is lost, it goes to another player rather than the house.
Mr Pappas also argues that poker is not the sort of quick win or lose game where compulsive or desperate players believe they can place a fast bet and win in a heartbeat.
"Because poker is a game of skill, it is the outcome of the performance of the individual player that determines whether you win or lose," he said.
"Poker players are motivated by patience and skill, not compulsion."
British leadership
Hogwash, says Keith Whyte, executive director of the National Council on Problem Gambling (NCPG).
In his line of work, he says, drawing a distinction between poker and other forms of gambling is "pretty ridiculous".
"The reason poker is popular, exciting and profitable is because it's gambling," he said.
NCPG is completely neutral on the issue of online poker - in its view, addicted gamblers have a problem regardless of the forum in which they play.
But if online poker is legalised, Mr Whyte sees important opportunities for regulations that could help prevent problem gamblers getting in too deep.
He points to the UK as a leader in policing online gambling for the protection of players. There, sites are required to verify identities, link to help services for addicts and provide support for those services.
Following the British lead, he is lobbying American lawmakers to ensure that regulations mandate things like deposit limits - where a player can specify the amount he or she is willing to spend in a given day or week so they do not get too far into debt - and self-exclusion rules, where an individual can ban him or herself from a site for a period of time.
He also suggests cooling-off periods when players reach their limits, and wants to see protections against fraud and player collusion.
Mr Whyte says there are more opportunities to monitor problem behaviour in online poker than, for example, when somebody walks into a betting agency to wager on horse racing.
Federal action
The PPA is somewhat wary of the push by individual states to legalise online poker.
State-based laws would only legalise games within that state. But for sites to attract players, they need to offer lots of games - hundreds - at all times of the day and night, with different buy-ins and skill levels.
The PPA would prefer national legislation.
Mr Pappas is hopeful that, after several aborted attempts, Congress will act on online poker this year.
Senate Majority Leader Harry Reid and the leading Democrat on the House Financial Services Committee, Barney Frank, are leading the charge.
"There's a recognition that the status quo is untenable," Mr Pappas says.
"It's a growing industry, with jobs and revenue and it is all based overseas. To the extent that there are consumer protection issues, there is no US oversight."
But perhaps more important to Mr Pappas is the game's quintessential American-ness. He fears that in shifting from the kitchen table to the computer table, opponents have sullied the game's cultural history.
"Americans watch poker on television. The vast majority have played with their parents, kids or friends," he says. "It's a game that encapsulates the American spirit. It's part of Americana."