Mel Gibson pleads no contest to battery charge in LA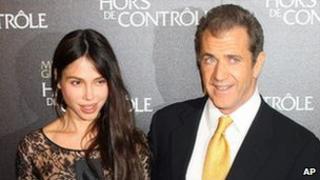 Actor and director Mel Gibson has pleaded no contest to a "misdemeanour" battery charge after a fight with then-girlfriend Oksana Grigorieva in 2010.
Gibson, 55, was placed on probation for 36 months and ordered to attend a year of domestic violence counselling.
The complaint accuses Gibson of "wilfully and unlawfully" using force and violence against Ms Grigorieva.
A misdemeanour charge is generally considered a lesser criminal act than a felony charge in the US.
Gibson's "no contest" plea came within hours of the charge being filed and means the case will not go to trial.
He was also ordered to perform 16 hours of community service and pay fines and court costs.
His lawyer, Blair Berk, said in a statement released earlier this week: "Mel's priority throughout all of this has been that the best interests of his young daughter Lucia and the rest of his children be put first in any decisions made.
"It is with only that in mind that he asked me to approach the district attorney with a proposal that would bring all of this to an immediate end."
In a separate decision, prosecutors found insufficient evidence to charge Ms Grigorieva with trying to extort money from Gibson - an allegation he made during custody negotiations with Grigorieva after their break-up in 2010.
The Malibu police unit looking into the battery claim against Gibson also arrested the actor in 2006 on suspicion of drink-driving.
The actor later apologised for making anti-Semitic comments during his arrest and was given three years' probation.
The charge was expunged from his records last year.