Libya: Canada to send fighter jets for no-fly zone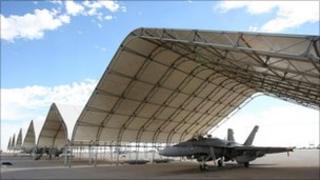 Canada is sending six fighter jets to help enforce the UN-backed no-fly zone over Libya, Prime Minister Stephen Harper has said.
The CF-18 war planes are being deployed from the Bagotville base in Quebec.
The aircraft will be supported by 150 Canadian military personnel, Chief of the Air Staff Lt Gen Andre Deschamps said.
The move comes after the UN Security Council on Thursday backed a no-fly zone over Libya to protect civilians.
The Libyan government announced an immediate ceasefire on Friday, only hours after Col Muammar Gaddafi had insisted the Security Council had "no mandate" to implement the no-fly zone.
US Secretary of State Hillary Clinton said the Libyan government would need to demonstrate it was implementing a ceasefire.
"We are going to be not responsive or impressed by words, we would have to see actions on the ground and that is not yet at all clear," she said.
The no-fly zone approves "all necessary measures" short of an invasion "to protect civilians and civilian-populated areas" from air attacks from forces loyal to embattled Libyan leader Col Muammar Gaddafi.
In New York, the 15-member body voted 10-0 in favour, with five abstentions.
Canada's involvement in the no-fly zone would make it one of a number of nations thought to be set to join the engagement, including the US, Britain, France and several Arab states.
'Urgent action'
The Canadian jets will take at least 24 hours to arrive at their destination, which has not been disclosed.
Mr Harper said the situation in Libya "remains intolerable" and that "urgent action" must be taken to support the UN resolution.
"One either believes in freedom or one just says one believes in freedom," he said.
"The Libyan people have shown by their sacrifices that they believe in it. Assisting them is a moral obligation upon those of us who profess this great ideal," he said.
The prime minister, who leads a minority government, said he had spoken to opposition leaders to inform them of the military deployment.
Parliament would be consulted on the matter next week and its approval would be sought if the troops are to be deployed in the region longer than three months, Mr Harper said.
"My position is, if you're going to put troops into combat, into a war situation, I do think for the sake of legitimacy - the government does require the support of Parliament," he said.
Lt Gen Deschamps told reporters that the planes would be shipped on C-130 Hercules jumbo jets and that three had already left the military base by mid-afternoon on Friday.
"Our aircraft will be prepared to take any steps that are necessary to defend themselves and to enforce the sanctions imposed by the United Nations," he said.
The CF-18 aircraft's radar can track targets from great distances, at night and in low visibility, according to the Canadian air force.
Canadian pilots flew the jets in the 1991 Gulf War.