'Westside rapist' John Floyd Thomas jailed in LA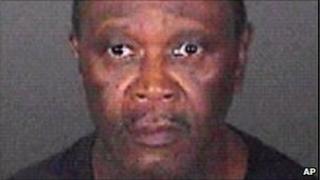 A man known as the "Westside rapist", who terrorised Los Angeles suburbs in the 1970s, has been jailed for life on seven murder counts.
John Floyd Thomas, 74, pleaded guilty on Friday and was sentenced to seven life terms, with no chance of parole.
Thomas was charged in 2009 after new DNA testing linked him to attacks in which middle-aged and elderly women were raped and choked in their homes.
Police have said they believe he may be responsible for as many as 30 killings.
Thomas, a former state insurance claims adjuster, had previously spent time in prison for sexual crimes, and it was because of those convictions that his DNA was taken in 2008 as part of a process to collect samples from sex offenders.
That testing led California investigators to conclude he was the notorious Westside rapist, who carried out a series of rapes and killings of older women in two waves, in the 1970s and 1980s.
At the time he was charged, police said the attacks had stopped in 1978 - the year Thomas went back to prison for the rape of a woman in Pasadena. They started again in 1983, the year he was released.