Long Island beach community shocked by bodies find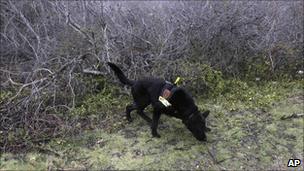 The discovery of eight bodies on a New York barrier island - and an ongoing police search for more that may remain to be found - has cast a shadow over a small community, the BBC's Laura Trevelyan reports.
The black police dog winced as its paws touched the thorns on the bushes by the side of a remote beachside highway, 45 miles (72km) east of New York City.
A little reluctantly, the cadaver dog followed its police handler into the Long Island brush, looking for yet more human remains.
This is the scene on Oak Beach, a small, narrow island where the police have found the bodies of eight people, four of them identified as prostitutes who advertised their escort services on Craigslist.
"It's getting scary," said a woman who gave her name as Pat. "I have lived in Oak Beach for 43 years, it's always been peaceful, and now we don't know what's going to happen next."
A police fire engine with a 100ft (30m) ladder towered over the scene, two officers with binoculars surveying the dense scrubland. To either side of the parkway lies water.
Inspector Stuart Cameron of the Suffolk County police told the BBC he had never been involved in an operation this large before.
"We are doing as thorough a search as we possibly can, diligent, systematic," he told a news conference at Oak Beach.
"Short of going into there and cutting down the brush, we're doing the best effort we can."
Oak Beach is the last place 24-year-old New Jersey sex worker Shannan Gilbert was seen before she disappeared last May.
Police searching for Ms Gilbert found four bodies along the highway here in December. They were all young women who had advertised their escort services on Craigslist.
A fifth body was found last week, a mile from where the first four were found, and on Monday the police announced that they had found the remains of three more people.
Shannan Gilbert is not one of those who have been found, police say, raising fears that she could be the ninth victim of a serial killer.
For those who live in Oak Beach, prized for its tranquillity and proximity to Manhattan, the discovery of bodies wrapped in burlap has been a shock.
"It's disturbing," says Frank Bruno, who is building a new house on Oak Beach with spectacular views of the ocean.
"This is a quiet, out-of-the-way place. Long Island has some pockets of organised crime, there's been talk of organised crime dumping the girls' bodies. It's not a good feeling."
Suzanne was out for a walk with her friend Pat, and although neither woman wanted to give her last name, both told the BBC they hope the police will resolve this swiftly.
"We live on a beautiful barrier beach, there are only 71 homes, we always say 'another day in paradise'," Suzanne said. "What's going on is disconcerting."
Pat says: "It's bizarre and scary, but that stretch of parkway where the bodies have been found is very isolated."
Outside his wooden home, close to a pathway leading to the beach, Gus Coletti says he was probably the last but one person to see Shannan Gilbert alive.
"She was outside my house at 5am last May, asking for help. She looked spaced out," says Mr Coletti, 76. He called the police but she ran off.
She had been at a party nearby, hired from Craigslist to work as an escort.
As Insp Cameron watched the cadaver dog hunt through the thorny bushes, he said the search for Ms Gilbert would continue.
"We're looking for her, we're looking for any human remains that might be in the area and any item of evidence," he said.
The wind whistled through the reeds and the brush crackled as the cadaver dog carried on sniffing.