Ex-Enron CEO Jeff Skilling denied new trial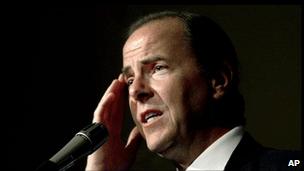 A US appeals court has denied ex-Enron chief executive Jeffrey Skilling a new trial, upholding his conviction on 19 counts of conspiracy and other crimes.
The court rejected arguments that faulty jury instructions at his 2006 trial meant he should get a new trial.
The arguments were based on a June US Supreme Court ruling that an anti-fraud law was improperly used to convict him.
Skilling, 57, was the highest-ranking Enron officer to be punished after the energy firm's collapse.
In addition, on Wednesday the three-judge panel of the Fifth Circuit Court of Appeals in Houston vacated Skilling's 24-year prison sentence and sent it back to a lower court for re-sentencing.
Skilling's lawyer Dan Petrocelli said he would continue to fight to overturn the convictions.
The energy trading giant imploded in December 2001 amid revelations executives had covered up the shoddy state of the company's finances with accounting trickery and shady business deals.
In 2006, Skilling was convicted for his part in the accounting fraud, after prosecutors said he and other executives had concocted a scheme to keep the firm's failing financial health secret from shareholders.
Enron founder Kenneth Lay was also convicted but died six weeks later as he awaited sentence.
In June, the US Supreme Court ruled the federal anti-corruption law that made it a crime ''to deprive another of the intangible right of honest services" was overly vague and could only be applied to cases of bribery and pay kickbacks.
The Supreme Court ruled the law was misapplied to Skilling's case, since prosecutors had shown no evidence he had taken bribes or kickbacks for making the financial misrepresentations, but left it to lower courts to decide whether to void Skilling's conviction.
In Wednesday's ruling, the Fifth Circuit Court of Appeals sided with the US government and found the faulty jury instructions in Skilling's trial were "harmless" because the evidence against him was overwhelming.