US budget deadlock: White House budget talks continue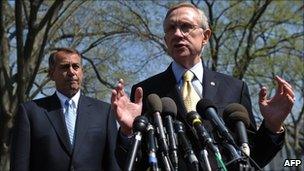 US President Barack Obama and congressional leaders have met at the White House in a bid to negotiate a budget as a government shutdown looms.
Republican House Speaker John Boehner and Democratic Senator Harry Reid were expected to deliver a joint statement.
The talks have been deadlocked for days, with Republicans pushing far larger spending cuts than Democrats are willing to concede.
Mr Obama has refused to sign another temporary funding measure.
On Thursday evening, Mr Obama, Vice-President Joe Biden, Republican House Speaker John Boehner and Democratic Senate Majority Leader Harry Reid met behind closed doors at the White House.
Aides to the men had already spent hours locked in negotiations.
Throughout the day, congressional leaders from both parties insisted no deal had been reached but said they were optimistic one could be struck before a temporary measure funding the US government was to expire.
"There is no agreement on the number or policy issues," Mr Boehner said earlier on Thursday. "I do believe that all of us believe we can get to an agreement, but we're not there yet."
Mr Reid said that although he was "disappointed we haven't been able to get something done", talks would continue.
The Democrats have accepted cuts of more than $33bn (£20bn) but some Republicans want cuts of more than $60bn to tackle the country's huge deficit.
The US government has subsisted without a long-term budget since 1 October, funded by a series of temporary measures.
The most recent of those is set to expire at midnight on Friday, forcing all government services deemed non-essential to shut down and keeping hundreds of thousands of government workers at home.
Republicans in the House approved another temporary measure on Thursday - but one that would cut $12bn from spending in a single week.
Mr Obama said in a statement that the US government could not continue to operate on a week-to-week basis and that he would veto the Republican bill if it arrived on his desk.
Following the negotiations on Thursday, Mr Boehner said he had expressed his disappointment to the president over his intentions to reject the measure.
Senate Democrats, who must pass the bill before it goes to Mr Obama, have also said they will reject it.
Democrats have said Congress has already passed too many temporary bills and must work towards a measure that will fund the government until 30 September, the end of the budget year.
On the wider spending proposals, Republicans, urged on by the Tea Party movement, are calling for a far greater reduction in the government budget than Democrats are willing to concede, in what Republicans describe as a necessary effort to trim the $1.4 trillion (£858bn) US budget deficit.
Following a meeting with Mr Obama earlier on Thursday, Mr Boehner said he believed it was important to take time to put through "the largest spending cuts possible to help our economy".
But the House speaker also said a disagreement existed "in terms of making real spending cuts" and that talks with the White House were drifting further apart.
"It's really just more of the same. We're going to have real spending cuts. I don't know what some people don't understand about this," he said.
Mr Reid said that Republicans were insistent upon linking social policy agendas to the bill, like rewriting the Clean Air Act and bringing the issue of abortion into the spending debate.
"The issue is ideology, not numbers," Mr Reid said. "The two main issues that are holding this matter up are reproductive rights and clean air. These matters have no place on a budget bill."
Mr Obama said in an earlier statement he believed "we need to put politics aside and work out our differences" on a spending plan.
Democrats have said the size of the cuts Republicans demand would hinder the nascent US economic recovery.
Republicans in the US House have pushed for $61bn (£37.4bn) in cuts over last year's spending between now and the end of the fiscal year on 30 September, and have sought to use the budget bill to dismantle Democratic policy priorities.