Garridos plead not guilty in Jaycee Dugard kidnapping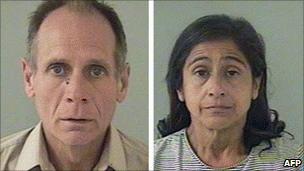 A US husband and wife accused of kidnapping a young girl and holding her captive for 18 years have pleaded not guilty in a California court.
Phillip and Nancy Garrido are charged with kidnapping, rape and other counts.
They are accused of abducting Jaycee Dugard, then aged 11, in 1991, raping her and holding her until she was freed and they were arrested in 2009.
On Thursday, a lawyer for Phillip Garrido said the grand jury that indicted him was improperly selected.
Stephen Tapson, a lawyer for Ms Garrido, said earlier in the week that Phillip Garrido would plead guilty.
But on Thursday, Garrido's lawyer Susan Gellman objected to the make-up of the grand jury and later criticised Mr Tapson for speaking for her client, the Associated Press reported.
Speaking outside the courtroom, Ms Gellman said she had problems with the grand jury's racial and geographic make-up, but would not elaborate.
Judge Douglas Phimister instructed Ms Gellman to put her objections in writing.
Mr Tapson had previously said the couple had given a full confession and expressed interest in a plea bargain that would spare Ms Dugard, now 30, and the children from having to testify.
The 18 counts faced by the pair include kidnapping for sexual purposes, rape, lewd acts on a child, false imprisonment and production of child pornography with the victim, according to the indictment document.
In addition, Garrido is charged in relation to special allegations stemming from a 1977 rape conviction, including being a habitual sex offender.
Garrido is accused of fathering Ms Dugard's two daughters while keeping her captive in a hidden garden behind their house.
Ms Dugard was discovered and the couple arrested in California in August 2009, when police officers at the University of California at Berkeley who saw Garrido on the campus with Ms Dugard and their daughters became suspicious and contacted his parole officer.
Mrs Garrido entered a "not guilty" plea last year on an initial set of charges. Garrido was not formally charged at that time, pending the evaluation of his mental status.