Bronx Zoo picks name for escaped Egyptian cobra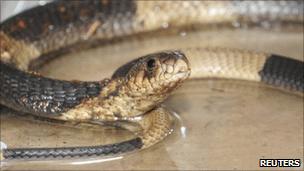 New York's Bronx Zoo has found a name for the cobra that escaped from her pen and was discovered six days later: Mia.
The name, selected in a public poll, is identical to the American acronym used to refer to soldiers "missing in action".
The winning name was nominated 222 times and received 27% of the more than 59,000 votes cast, the zoo said.
The 20in (50cm) adolescent Egyptian cobra was discovered in good health in the zoo's reptile house last week.
The zoo's reptile exhibit is to be reopened on Saturday, when Mia will make her first public appearance.
Runners-up in the name stakes included Subira, Amaunet, Cleopatra and Agnes.
In the days that it was missing, the snake became something of a celebrity.
One wit set up a Twitter account in the cobra's name, soon gaining hundreds of thousands of followers as the "cobra" sent out despatches about its activities and location.
On Thursday, the tweeter wrote: "So, the vote is in. They want to name me Mia. But in my heart I'll always know that my true name is Mrs Justin Bieber."
Related Internet Links
The BBC is not responsible for the content of external sites.