Alabama bacteria outbreak linked to laboratory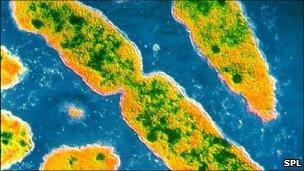 Health officials have linked an outbreak of bacterial infection found in nine Alabama hospital patients who died to contamination at a laboratory.
The victims, already seriously ill, were stricken with Serratia marcescens bacteraemia in February and March.
Ten other patients also fell ill after receiving an intravenous nutritional product made by Alabama's Meds IV.
State officials said it was likely contaminated ingredients and pharmacy equipment had led to the infections.
"We are trying to identify where the weak point in the chain of infection control occurred," Alabama Department of Public Health director Dr Donald Williamson told the Associated Press on Thursday.
Upon learning of the outbreak, Meds IV Pharmacy ceased production and on 24 March recalled all of its intravenous products, officials have said.
No further infections were reported.
The Alabama Department of Public Health said in a statement it had discovered bacteria genetically identical to that found in 12 of the 19 patients in a container and stirrer used to mix ingredients in the nutritional product, on a tap water spigot and in a bag of amino acids used to produce the product.
Of the seven other patients, six had no bacteria samples available for genetic testing and one more case was pending a test, the department said.
About 35% of hospital patients who were given the product manufactured by Meds IV were stricken with Serratia marcescens infection.
The affected individuals ranged in age from 38 to 94, the health department said.
However, officials told the Associated Press that they might never know whether the infections caused the illnesses and deaths because the patients were so ill to begin with.
Related Internet Links
The BBC is not responsible for the content of external sites.