Canada's Conservatives 'aim to end deficit early'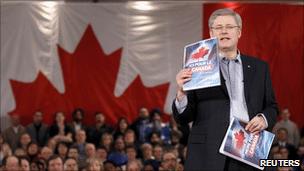 Canada's Conservative Party has said it will eliminate the nation's budget deficit a year earlier than planned.
In its election platform, PM Stephen Harper's party said it would keep taxes low while cracking down on crime and helping create jobs.
But the Liberal Party, the largest opposition group, said the budget reduction plan was "not credible".
Canada is to hold elections on 2 May, the result of a March no-confidence vote in the Conservative government.
"This election is like deciding whether to go forward, or to make a U-turn... Conservatives understand you cannot tax your way to prosperity," Mr Harper told supporters on Friday.
"You cannot create jobs by raising taxes. Let us not go back to the days of higher spending, higher taxes, double-digit unemployment, double-digit mortgages."
In its platform, released last week, the Liberal Party, led by journalist and author Michael Ignatieff, called for spending on post-secondary education, childcare and care for the elderly, benefits for the elderly poor, and tax benefits to help people afford energy-efficient home renovations.
The party's so-called "family pack" platform would fund the spending by raising the corporate tax rate, cancelling tax breaks for oil sands development, and other measures.
The Liberal Party hopes to appeal to middle class Canadians worried about their own finances, in contrast to the Conservatives' push for voters concerned about the budget deficit, analysts say.
Last month, the Conservative Party projected the Canadian government's budget deficit would decline to 300 million Canadian dollars ($313m; £191.96m) by the 2014-2015 fiscal year.
But in the election platform released on Friday, the party said it would eliminate the deficit by that year, through spending reductions and waste trimming.
'Credible' liberal platform
The Liberal Party said the Conservative platform would make prison building and corporate giveaways a priority ahead of healthcare.
In a statement, the party said the Conservatives' deficit reduction plan was "just not credible".
"The Liberal Party will help average Canadian families right away with the cost of child care, post-secondary education, family care, pensions, and cutting high energy costs," Liberal MP David McGuinty of Ottawa said.
"And unlike the Conservatives, we can keep our promises because our platform is full-costed and credible."
The Bloc Quebecois, the third largest party in parliament, released its platform earlier this week. It calls for greater federal investment in industries such as forestry and technology, and a push for the development of green energy.
"While other parties hesitate to favour green energies and the electric car in order not to upset Calgary, the Bloc intends to push for measures to diminish Quebec's dependence on oil and gas," it said in a statement.
The New Democratic Party, the fourth largest party, says it will train more family doctors, improve healthcare and strengthen pensions.
Related Internet Links
The BBC is not responsible for the content of external sites.