Winklevoss twins lose Facebook appeal over site idea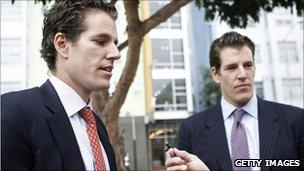 A US appeals court has ruled that twin brothers who say the idea for Facebook was stolen from them by Mark Zuckerberg cannot back out of a settlement deal they made with the website.
Tyler and Cameron Winklevoss had asked in January to re-open a $65m (£42m) legal settlement signed in 2008.
The twins say Mr Zuckerberg stole their idea after he was hired by them to code their ConnectU site in 2003.
The court said it saw no reason to re-open their case against Facebook.
Facebook has rejected the brothers' claims.
"The Winklevosses are not the first parties bested by a competitor who then seek to gain through litigation what they were unable to achieve in the marketplace," three Ninth Circuit Court of Appeals judges said in the ruling.
"At some point, litigation must come to an end. That point has now been reached," the judges said.
The Winklevosses have argued that Mr Zuckerberg, who attended Harvard with them, took the code for their social networking website and launched Facebook with it in 2004.
Facebook agreed to a 2008 settlement to end "rancorous litigation" but did not admit Mr Zuckerberg had taken the twins' idea.
The Winklevosses received $20m in cash and $45m worth of stock valued at $36 per share in the deal.
"For whatever reason, they now want to back out... Like the district court, we see no basis for allowing them to do so," the judges said, referring to the settlement deal.
Jerome Falk, a lawyer representing the Winklevosses, said he disagreed with the ruling and that his legal team would file for a rehearing within the next two weeks.
"In my judgment, the opinion raises extremely significant questions of federal law that merit review by the entire Ninth Circuit Court of Appeals," Mr Falk said in a statement.
Mr Zuckerberg has always maintained that Facebook was his creation.
The lawsuit over Facebook was dramatised in the film The Social Network, which was nominated for best picture at the Oscars.
Facebook is the world's biggest social network with more than 500m users, and Mr Zuckerberg is one of the world's youngest billionaires.
Related Internet Links
The BBC is not responsible for the content of external sites.