Mitt Romney exploring 2012 presidential run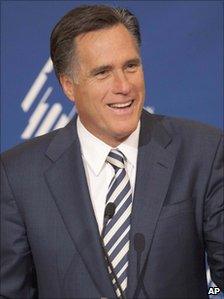 Former Massachusetts governor Mitt Romney has taken the first formal step towards running for the Republican presidential nomination in 2012.
Mr Romney, who ran a failed bid in 2008, is setting up a committee to explore the feasibility of a run.
"It is time that we put America back on a course of greatness," he said
Mr Romney is the second high profile Republican to announce a bid following former Minnesota governor Tim Pawlenty's move in March.
While Mr Romney is widely expected to enter the 2012 race, correspondents say he has several hurdles to overcome, notably his moderate record as Massachusetts governor, which does not sit well with conservative primary voters.
Mr Romney's reform of the Massachusetts health care system - an overhaul that has been viewed as remarkably similar to the one President Barack Obama passed in 2009, in the face of forceful Republican opposition - is considered as albatross around his neck.
Some also see Mr Romney's Mormon faith as an issue.
Mr Romney ran in 2008 but lost the Republican nomination to Senator John McCain.
The BBC's Steve Kingstone, in Washington, says that while Mitt Romney isn't quite in the race yet, he is clearly positioning himself for a presidential run.
By setting up an exploratory committee, the former governor of Massachusetts can officially begin to raise money, and build on the name recognition that has given him the highest poll ratings of the potential Republican challengers to Barack Obama.
US media coverage, meanwhile, has focused on two colourful but as yet undeclared contenders - the former vice presidential nominee, Sarah Palin, and the billionaire businessman, Donald Trump, our correspondent adds.
In a three-minute video announcing his latest move, Mr Romney trumpeted his highly successful business career and criticised Mr Obama's attempts to turn around a faltering US economy.
"Across the nation, over 20 million Americans still can't find a job or have given up looking," Mr Romney said.
Mr Romney, a Boston venture capitalist and founder of a management consultancy, said he believes Mr Obama's policies have failed because "all the people around him have never worked in the real economy".
"America has been put on a dangerous course by Washington politicians and it's become even worse during the last two years. But I'm also convinced that, with able leadership, America's best days are still ahead," he added.
Mr Romney has lined up donors, staff and advisers for his expected presidential bid.
The former venture capitalist invested more than $40m (£24m) of his own money in the 2008 presidential race.
Since that time, Mr Romney has written a book on government and has raised money for other Republican candidates.