Two sets of bones found near Long Island beach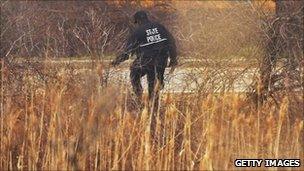 Police have found what they suspect may be human remains in two separate locations near a New York beach, in the same area where eight corpses have already been discovered.
A skull was found in brush about 90ft (27m) from a highway on Long Island on Monday, Lt Kevin Smith said.
Another set of remains was unearthed earlier in the day.
Since December, eight corpses have been found in the region. Police suspect a serial killer could be at large.
The latest discovery was made as police expanded their search from Long Island's Suffolk County to Jones Beach in Nassau County, just east of the New York City border.
Police also made several discoveries of bones on Monday that were quickly determined to be animals.
Of the skull, Lt Smith said: "Whether it is human or not, is unknown at this point."
The latest search was sparked by the discovery of four sets of remains in the past two weeks along Ocean Parkway, which leads to the popular Jones Beach State Park.
Police sent the two sets of remains, which were found several miles apart, to the medical examiner's office to confirm whether they were human.
The bodies of four women who worked as escorts were found in the region in December.
Those remains, which were identified using DNA and dental records, were found while authorities were following up on the disappearance of a woman from New Jersey seen working as a escort in the Long Island area.
Investigators continue to search for the remains of Shannan Gilbert, a New Jersey woman who was last seen in May at nearby Oak Beach, where she had arranged to meet a client she had met through Craigslist.
Police have not officially linked the discoveries in the past several weeks with those found in December.