LaBrie guilty of denying autistic son's cancer drugs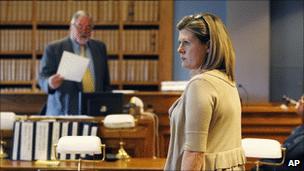 A Massachusetts woman has been convicted of attempted murder for withholding cancer drugs from her son.
Kristen LaBrie's son Jeremy Fraser, who was autistic, died in 2009 at age nine of leukaemia, the court heard.
Prosecutors said she had stopped giving the boy medication because she was angry at having to raise him herself.
LaBrie told a jury she ceased giving him the drugs after seeing how ill they made him. She faces up to 20 years in prison on the attempted murder charge.
Prosecutors told the jury that LaBrie had stopped giving the boy cancer medication for five months following his initial diagnosis with non-Hodgkins lymphoma in 2006.
"He was a little boy, he was her little boy, and he had an opportunity for a miracle... and she took that from him, she stole that from him,'' Assistant District Attorney Kate MacDougall said, the Boston Globe reported.
"That was not a tragic mistake. That was not an accident. That was in every sense of the word criminal.''
The boy's oncologist, Dr Alison Friedmann, testified the type of cancer the boy had has a cure rate of 85% to 90% with treatment.
Dr Friedmann said the cancer had gone into remission but returned in the form of leukaemia in 2008, and she then discovered that five months of medication prescriptions had not been filled.
LaBrie told the court she had not wanted to make her son sicker after seeing the side effects of the drugs.
"He was just not capable of getting through any more chemotherapy," she said, according to the Associated Press news agency.
Jeremy was placed in the custody of his father, who was killed in a motorcycle accident several months after the boy's death.
LaBrie, who is due to be sentenced on Friday, faces up to 20 years in prison on the attempted murder charge, 10 years for assault and battery on a disabled person, and lesser sentences on other charges.