Mob boss Massino testifies in lieutenant's murder trial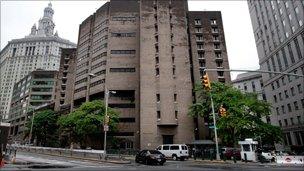 A mob boss has become the highest-ranking member of New York's five mob families to testify in court against one of his former lieutenants.
Joseph Massino gave testimony at the murder and racketeering trial of Vincent Basciano, accused of arranging the killing of an associate.
Basciano, 51, who is already serving a life sentence for murder, could face the death penalty.
Massino agreed to testify against his Bonanno family associate in 2004.
In federal court in New York on Tuesday, Massino, 68, told a court he had led a life of crime for decades.
He was convicted in 2004 of murder, racketeering and other crimes, and agreed to wear a secret recording device while jailed with Basciano and to "chat him up" about the 2004 murder of Bonanno associate Randolph Pizzolo.
Basciano "told me that he killed him," Massino said in court on Tuesday. "He said he was a scumbag, a rat, a troublemaker."
Prosecutors say Basciano, known as Vinny Gorgeous and Vinny from the Bronx, became acting boss of the Bonanno crime family in 2004 following the conviction and imprisonment of a slew of top-ranking mob figures, including Massino.