US air traffic controller snoozed as plane landed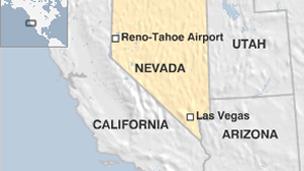 An air traffic controller in the US state of Nevada was asleep and out of communication for about 16 minutes while a medical plane was landing, federal officials have said.
The plane, carrying at least three people, landed safely at Reno-Tahoe International Airport, after failing to rouse the controller.
The employee has been suspended while Wednesday's incident is investigated.
The news comes amid a series of similar incidents in the US this year.
The Piper Cheyenne plane, which landed at 0200 local time (0900 GMT) on Wednesday, had reportedly made several unsuccessful attempts to contact the sleeping controller before landing.
"The flying public needs an assurance from the FAA [Federal Aviation Administration] that this situation will be addressed at all airports," airport chief Krys Bart said.
Two jetliners landed at Reagan National Airport in Washington DC last month after an air traffic supervisor fell asleep.
The FAA uncovered a second incident in February involving a sleeping air traffic controller at McGhee Tyson Airport in the state of Tennessee.
Transportation Secretary Ray LaHood has since ordered an examination of controller staffing at airports across the nation.
Related Internet Links
The BBC is not responsible for the content of external sites.