FBI to assist search for bodies near Long Island beach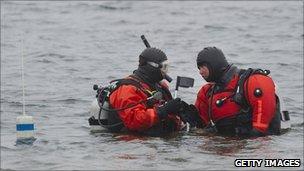 The FBI will supply high-tech surveillance aircraft to authorities investigating a possible serial killer on Long Island in New York later this week, a police official has said.
Police have discovered 10 sets of human remains since December near a highway leading to Jones Beach State Park.
Helicopters and aircraft equipped with special cameras will reportedly be used in the hunt for further human remains.
The police search is being hampered by the density of the seaside brush.
Suffolk County Police Commissioner Richard Dormer said on Wednesday that federal investigators would supply both helicopters and fixed-wing aircraft equipped with advanced cameras to search more than 15 miles (24km) of thick brush along Ocean Parkway, just east of the New York City border.
Volunteer firefighters with ladders and mounted police units have been employed in recent days to assist in the search for more victims.
Police divers scoured the waters north of the parkway on Wednesday morning.
The bodies of four women who worked as escorts were found in the region in December.
Those remains, which were identified using DNA and dental records, were discovered while authorities were following up on the disappearance of a woman from New Jersey seen working as a escort in the Long Island area.
Investigators continue to search for the remains of Shannan Gilbert, a New Jersey woman who was last seen in May at nearby Oak Beach, where she had arranged to meet a client she had met through Craigslist.
Six more sets of remains were found in the past two weeks along the same parkway.
Police have not officially linked the remains discovered in the last several weeks with those found in December.
"The indications we have right now is that there is no connection," Mr Dormer said.
He added that officials wre awaiting the results of forensic testing before discussing the identities of the most recent sets of remains.