Somali 'hostage negotiator' indicted over yacht deaths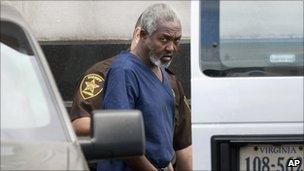 US prosecutors say the latest Somali man indicted in a hijacking that left four Americans dead is a high ranking "hostage negotiator".
Mohammad Saaili Shibin is accused of negotiating ransom payments and working from the shore in the highjacking of the yacht Quest near Oman in February.
The FBI and military arrested Mr Shibin in Somalia last week, reports say.
Thirteen Somalis and a man from Yemen pleaded not guilty to the hijacking last month.
The couple who owned the boat and two guests were shot to death after pirates took them hostage in the Indian Ocean.
'Significant breakthrough'
Mr Shibin was brought to the US last week, and his indictment was unsealed on Wednesday.
US Attorney Neil MacBride called Mr Shibin's arrest "a significant breakthrough" in the US battle against Somali pirates.
"Today marks the first time that the US government has captured and charged an alleged pirate in a leadership role - a hostage negotiator who operated in Somalia," he said.
Mr Shibin's arraignment is scheduled for 27 April.
Last month's indictment of the 14 other suspected pirates said the men had been in possession of heavy weaponry including a grenade launcher and several assault rifles at the time of their arrest.