US condemns 'renewed atrocities' in Libya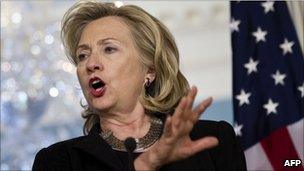 The Obama administration has condemned what it says are "renewed atrocities" by Libyan forces loyal to Colonel Muammar Gaddafi.
"Snipers have targeted civilians seeking medical assistance," Secretary of State Hillary Clinton said.
Ms Clinton also said Libyan mercenaries had begun firing mortar rounds into residential areas.
She added that coalition troops would work to stop all attacks on civilians, under Nato's command.
The Libyan regime had reportedly destroyed crucial food supply warehouses and cut off water and power to the rebel-held city of Misrata in an attempt to starve civilians into submission, Ms Clinton said in a statement on Wednesday.
She added that "thousands of civilians are being forced out of their homes by regime attacks with tanks and artillery".
"Under Nato's command and control, the coalition is enforcing UNSC Resolution 1973 to protect innocent civilians in Libya," she said, referring to the UN resolution that authorised the no-fly zone in the country and called for a stop to all attacks on civilians.
"The international community continues to speak in one voice in support of a transition that leads to a brighter future for the Libyan people."
Meanwhile, the Pentagon revealed on Wednesday that US warplanes continue to play a part in the bombing raids in Libya.
The news comes two weeks after President Barack Obama said the US military would withdraw to a "supporting role" under Nato command.
The BBC's Steve Kingstone says although the Obama administration publicly insists Nato is capable of leading in Libya, there are signs that Washington is again seeking to wield its influence.
Ms Clinton arrived early on Thursday in Berlin for Nato talks aimed at resolving friction within the Western alliance over sharing the burden of the Libya military campaign.
Her arrival in Germany follows two days after the French foreign minister and British foreign secretary said Nato must do more to destroy heavy weaponry used by Col Gaddafi's forces.