US Census: Hispanics outnumber blacks in metro areas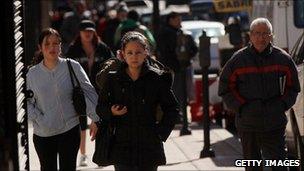 New figures by the US Census Bureau show Hispanics now outnumber African Americans for the first time in most metropolitan areas.
The figures, from the 2010 Census, illustrate the growing diversity of the 366 metro areas in the US, which are home to 83.7% of the US population.
Hispanics became the largest minority group in 191 of the areas last year.
The data could influence redistricting lines in many states, where political maps are drawn based on population.
The figures released on Thursday are important for the US political process because population determines the number of members a state has in the House of Representatives.
And states draw their own district lines, often taking ethnic voting into account.
That Hispanic populations have become the biggest minority groups in an increasing number of metropolitan areas - 191, up from 159 in the 2000 Census - is in part attributed to black populations moving south, leaving behind economically troubled cities in the northern part of the country.
New metropolitan areas where Hispanic populations rose include: Chicago, Illinois; Grand Rapids, Michigan; and Atlantic City, New Jersey - all regions that will lose US House seats in the 2012 elections because of overall population changes.
Last month, the Census Bureau said the total Hispanic population in the US jumped 42% in the last 10 years to 50.5m, the equivalent of one in six Americans.
Black populations increased 11% to 37.7m, or about one in 10 Americans.
"A greater Hispanic presence is now evident in all parts of the country - in large and small metropolitan areas, in the Snowbelt [northern states] and in the Sunbelt [southern states]," William Frey, a demographer at the Brookings Institution, told the Associate Press news agency.
He added: "From now on, local, state and national politicians will need to pay attention to Hispanics rather than treating blacks as the major minority."
Related Internet Links
The BBC is not responsible for the content of external sites.