US Iraqi jailed for killing daughter in Arizona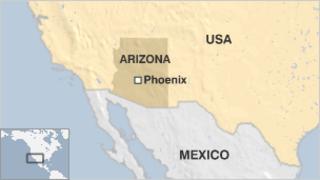 An Iraqi immigrant has been sentenced more than 30 years in jail in the US state of Arizona for killing his 20-year-old daughter because she had become too Westernised.
Jurors found Faleh Hassan Almaleki guilty of second-degree murder in connection to Noor Almaleki's death.
Noor Almaleki had rejected her father's wishes to follow Iraqi traditions for several years, court documents said.
Almaleki fled the US after the 2009 incident, in which he ran Noor over.
Ms Almaleki and her boyfriend's mother, Amal Khalaf, were both hit by Faleh Almaleki's jeep in a car park as they left a Department of Economic Security office on 20 October of that year.
Ms Khalaf survived the assault, but Noor Almaleki died from her injuries after being in a coma for two weeks.
The authorities caught up with Almaleki in London soon after the incident and brought him back to Phoenix, where the killing had taken place.
Almaleki, who moved his family from Iraq to Arizona in the mid-1990s, was convicted on Friday of second-degree murder, as well as aggravated assault for hitting Ms Khalaf.
He was sentenced to 34 years and six months in jail.
'Lack of remorse'
Maricopa County Superior Court Judge Roland Steinle said he was struck by Almaleki's apparent lack of remorse for the killing.
According to court records, he wanted his daughter to follow Iraqi traditions, but Noor Almaleki rejected his wishes in an effort to be a typical American girl.
At the age of 17, Noor Almaleki refused to enter into an arranged marriage in Iraq, which enraged her father, a court paper said.
She then began living with her boyfriend and his mother at 19 years of age, after saying her parents had hit her.