Ex-Rutgers student Ravi indicted in Clementi suicide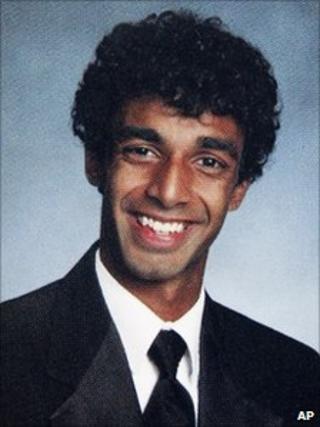 A former Rutgers University student faces 15 charges after allegedly using a webcam to spy on a homosexual encounter involving his roommate, who committed suicide afterwards.
A Middlesex County grand jury charged Dharun Ravi with bias intimidation, invasion of privacy and other charges.
Tyler Clementi, 18, jumped to his death from a bridge on 22 September.
Molly Wei, another student allegedly involved in the incident, was not named in the indictment in New Jersey.
Mr Clementi leapt from the George Washington Bridge in New York City last autumn after Mr Ravi and Ms Wei allegedly used a webcam to spy on him during a romantic encounter with a man.
Mr Ravi and Ms Wei both withdrew from Rutgers University in New Jersey following the incident.
'Calculated acts'
Mr Ravi was charged on Wednesday with bias intimidation, invasion of privacy, witness and evidence tampering and other offences.
The indictment said charges would not be presented to Ms Wei "at this time".
Mr Ravi's legal team has said the footage caught on the webcam was streamed to only one computer and that it did not capture the men having sex.
The charges came after Mr Clementi's family called for a criminal investigation into the case.
"The grand jury indictment spells out cold and calculated acts against our son Tyler by his former college roommate," the Clementi family said in a statement released after the indictment was returned.
"We are eager to have the process move forward for justice in this case and to reinforce the standards of acceptable conduct in our society."
Mr Ravi was already facing invasion of privacy charges, as is Ms Wei.
Gay rights organisations have said Mr Clementi's suicide is an example of a nationwide problem - young people killing themselves after being bullied over their sexuality.