New US protections announced for air travellers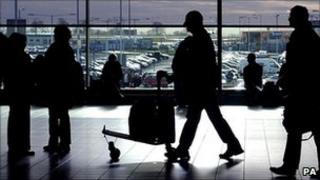 Airlines will soon be forced to raise compensation for passengers who are bumped from flights, and to show fees up front under new US government rules.
The laws, which take effect in August, will ensure passengers won't be delayed on the tarmac for hours, and require reimbursement of fees for lost luggage.
US transport secretary Ray LaHood said in a statement the new rules were meant to treat passengers with respect.
"Airline passengers have a right to be treated fairly," he said.
The new protections will make sure passengers on international flights are not kept waiting on the runway for more than four hours. Current laws limit tarmac wait times for domestic flights to three hours.
The regulations will also force airlines to prominently disclose potential fees on their websites, including extra charges for checked bags, changing reservations, and seat upgrades.
Under the new rules airlines will have to include taxes and government-imposed fees in advertised flight prices.
Increased compensation
The Air Transport Association, an airline advocacy group, has argued against these provisions, citing that other businesses, like car rental companies, are not held to the same standards.
Compensation for passengers involuntarily moved off over-sold flights will jump from $400 - $800 (£244 -£488) to $650 - $1,330 depending on the flight.
Last year 65,000 passengers were put on overbooked flights, and another 681,000 volunteered to give up their seats.
Airlines are already required to compensate passengers for lost luggage, but will now also have to reimburse passengers for checked baggage fees.
Last year two million pieces of luggage were mishandled by airlines.