Toronto student webcam death: Father flies to Canada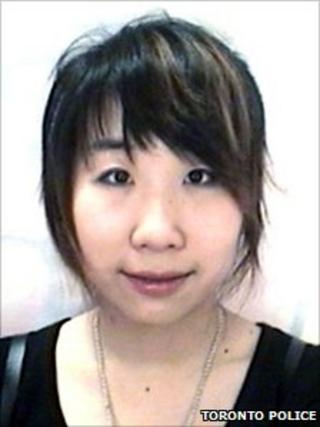 The father of a Toronto university student whose last moments were witnessed via webcam by her boyfriend in China is travelling to Canada.
Qian Liu, 23, was found dead on Friday, hours after her boyfriend saw her struggle with an intruder who came to the door as they were chatting online.
Detectives are investigating the incident as a homicide but have yet to determine the cause of death.
Police also released photos of Ms Liu and of belongings taken from her home.
They are searching for her IBM laptop, webcam and phone, believed taken by the intruder.
Only child mourned
"She was our only child," said Liu Jianhui, research director of Communist Party history at the Party School of the central committee of the Chinese Communist Party, according to the Associated Press news agency.
He said his daughter had studied at Beijing City University before moving to Canada, where she met the boyfriend identified as the man with whom she was chatting the night of her death.
"After hearing the news about Qian Liu, our family and friends were all very worried. But we were praying for the possibility that the victim was a different person with the same name... soon we found that we could no longer reach my daughter.
"Then the Canadian police made it quite clear that it was indeed my daughter."
Detectives have interviewed a "person of interest" but declined to say whether he was the intruder seen online.
Computer clues sought
Ms Liu and her boyfriend were chatting at about 0100 local time (0500 GMT) when a man unknown to the boyfriend knocked on the door asking to use Ms Liu's cell phone.
She let him into her basement flat and a struggle ensued for several minutes while the friend watched in horror, police said. The web chat was shut down, and Ms Liu's IBM laptop and webcam were apparently taken from the flat.
Ms Liu was found dead on Friday morning. Her body was naked from the waist down but investigators have found no obvious signs of sexual assault, and with no evident trauma that could have caused her death.
Toronto police say it could be weeks before toxicology tests are returned.
Investigators hope to examine the boyfriend's computer in China in an attempt to recover fragments of the video chat.