US sues over 'human trafficking' in farm industry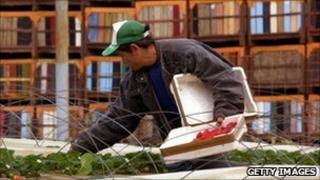 A US government agency has launched a multi-million dollar lawsuit in what it calls the largest human trafficking case in the US farming industry.
The Equal Employment Opportunity Commission is seeking damages for 200 Thai workers recruited to work on farms in Hawaii and Washington state.
The workers were allegedly abused and forced to live in rat-infested housing.
A California-based labour contractor and farms in the two states have been named in the lawsuit.
The contractor, Global Horizons Inc, "subjected the claimants to uninhabitable housing, insufficient food and kitchen facilities, inadequate pay, significant gaps in work, visa and certification violations, suspension, deportation, and/or physical violence", court papers state.
The Equal Employment Opportunity Commission said the workers were paid about $8.50-9.50 (£5.20-5.80) per hour but many were made to pay recruitment fees of as much as $25,000.
Some workers had to take out high-interest loans and were charged for housing and food, agency officials said.
A lawyer for Mordechai Orian, the head of Global Horizons Inc, said the workers were paid "more money than they ever were in Thailand" and "were not living in squalor or bad conditions".