Joseph Maraachli: End-of-life Canada row baby leaves US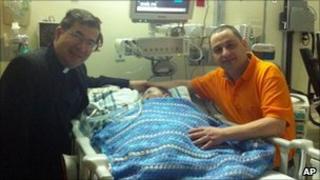 A terminally ill Canadian infant who received treatment aimed at extending his life has left the hospital that treated him in the US state of Missouri and returned to Canada, doctors say.
Joseph Maraachli, aged one, who is in a vegetative state with a neurological illness, left the hospital one month after receiving a tracheotomy.
Joseph's parents have said the surgery will allow him to die in comfort.
A hospital in the baby's native Ontario had refused to perform the surgery.
Joseph left Cardinal Glennon Children's Medical Center before dawn on Thursday and flew with his parents and seven-year-old brother to Ontario in Canada.
Family friend Brother Paul O'Donnell said the plane carrying the infant had landed in Canada and Joseph was being examined at a hospital.
Joseph, who has the progressive neurological disease Leigh Syndrome, is expected to go to his home in the city of Windsor later on Thursday.
'Absolutely astounding'
Doctors in Canada had previously warned that Joseph would be unable to breathe without a ventilator, calling the tracheotomy procedure futile.
But Mr O'Donnell said the infant had been breathing without a ventilator for more than a week and that Joseph's family was overjoyed.
"I would say they think it's a miracle. It's absolutely astounding," Mr O'Donnell said.
Joseph had spent several months prior to travelling to the US at Ontario's London Health Sciences Centre, where doctors said he would die as soon as he was removed from a ventilator. The hospital had agreed to transfer him to the family home before doing so.
But the child's family said removal of the ventilator would cause him to choke painfully to death, and sought a tracheotomy that they said would allow him to die more comfortably and slowly.