Man denies Bellagio heist in Las Vegas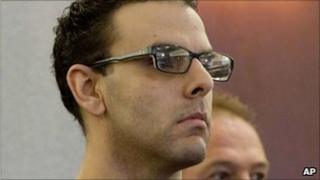 A US man accused of stealing $1.5m (£950,000) in casino chips from the Bellagio resort in Las Vegas last December has pleaded not guilty.
Anthony Carleo, 29, who is the son of a Las Vegas judge, was arrested in February on armed robbery, assault, burglary and weapons charges.
Judge Michelle Leavitt, in the state of Nevada, set a trial date for 10 January 2012.
If found guilty, Mr Carleo could be sentenced to decades in prison.
Mr Carleo is accused of shovelling handfuls of high value chips into a pouch before leaving the casino on a motorcycle.
The robbery, carried out by a man in a motorcycle helmet, was captured on CCTV.