'Pirate negotiator' indicted in US federal court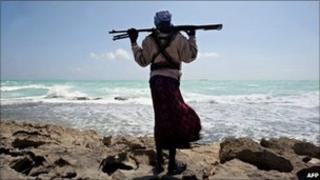 A US grand jury has indicted a Somali man accused of negotiating ransom on behalf of a band of pirates who captured a Danish cargo vessel.
Ali Mohamed Ali, 48, was charged with four piracy charges and faces life in prison if convicted.
Pirates captured the CEC Future in November 2008, with Mr Ali later negotiating a $1.7m (£1) ransom to free the ship and crew, prosecutors said.
He was arrested on Wednesday at Dulles International Airport in Washington DC.
"This case shows our resolve to prosecute pirates and those who profit from crimes on the high seas," US Attorney Ronald Machen said in a statement.
"Those who negotiate and collect these ransoms are every bit as responsible for these crimes as the pirates who commandeer the ships."
Washington arrest
A team of pirates armed with assault rifles and rocket-propelled grenades approached the CEC Future in a high speed skiff in the Gulf of Aden in November 2008, according to the indictment released on Thursday.
The pirates boarded the ship, captured the crew and took control, sailing her to the Somali coast where they dropped anchor, prosecutors said.
Mr Ali boarded the ship, which was carrying American cargo, at least two days later, and soon made contact with the CEC Future's Danish owners, prosecutors said.
He initially demanded $7m (£4.2m) ransom, but in January agreed to accept $1.7m, which the pirates received.
The pirates then left the ship, freeing it and the crew, prosecutor said.
Prosecutors said Mr Ali had previously lived in Washington DC.
A spokesman for the US attorney's office in Washington declined to offer more details about the circumstances of his arrest.