John Ensign resigns US Senate amid affair payment probe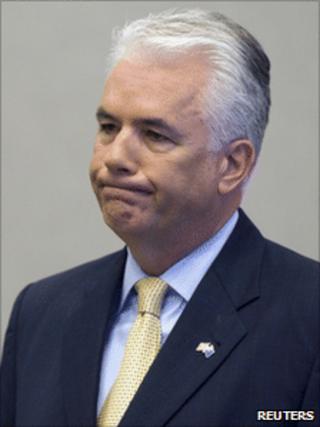 A Republican senator from Nevada is resigning amid a probe into his admitted sexual affair with an aide.
John Ensign had been under investigation after disclosures his wealthy parents paid the aide and her husband $96,000 (£58,000).
The aide's husband was on his Senate staff, and the payments coincided with the sexual affair and with the couple's departure from his employment.
The former casino manager denied he had violated laws or Senate rules.
'Personal cost'
"I will not continue to subject my family, my constituents, or the Senate to any further rounds of investigation, depositions, drawn out proceedings, or especially public hearings," he said in a statement.
"For my family and me, this continued personal cost is simply too great."
He was expected to turn in his official resignation letter on Friday, a day after announcing he would step down.
Mr Ensign has been cleared of criminal wrongdoing, but the Senate Ethics Committee continued to investigate him.
Last month, Mr Ensign announced he would not run for re-election in November 2012, touching off what is expected to be a bitter fight for his seat, which analysts consider a potential gain for the Democratic Party.
In 2009, Mr Ensign admitted he had had an affair with Cynthia Hampton.
His lawyer then revealed his wealthy parents paid $96,000 to her and her husband Doug Hampton and their children "out of concern for [their] well-being", describing the money as a gift.
In addition, Mr Ensign has acknowledged he helped Mr Hampton secure lobbying clients.
Nevada's Republican Governor Brian Sandoval will now appoint a successor, who will then be positioned to win Mr Ensign's seat for a full term in the November 2012 poll.