Lindsay Lohan ordered jailed for 120 days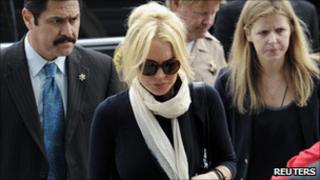 Lindsay Lohan has been sentenced to 120 days in jail for violating probation on a 2007 drink-driving conviction.
In addition to the jail stint - her fourth - the 24-year-old Mean Girls starlet will be required to carry out 480 hours of community service.
Lohan's lawyer vowed to appeal against the sentence, and she was freed on $75,000 (£45,413) bail on Friday.
The violation stems from an accusation Lohan stole a $2,500 necklace from a California jewellery store in January.
On Friday, Los Angeles Superior Court Judge Stephanie Sautner reduced the initial felony grand theft charge to a misdemeanour.
The judge sentenced her to jail after ruling prosecutors had presented sufficient evidence of the jewellery theft to show Lohan had violated terms of her probation.
Judge Sautner said Lohan had only returned the necklace after learning police had obtained a search warrant to find it.
Lohan will perform community service at a women's centre and at the Los Angeles morgue, the Los Angeles Times reported.
In September, Lohan was briefly jailed after failing a drugs test ordered after her 2007 conviction for drink-driving. In October, a judge ordered her to spend two-and-a-half months in rehab.
Soon after she was released from rehab in January, she was accused of walking out of a jewellery store in Venice, California, with the necklace. The actress has said the store lent her the jewellery.